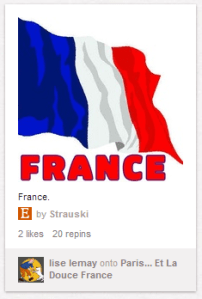 Pinterest is taking its well-lit show on the road, expanding eastward to the land of cigarettes, simple carbs and wafting B.O. — France.
The site, which is pretty much Tumblr for basic bitches, can already be accessed in French and a few other languages. The official new froggy version will simply provide more French site links and localized content, according to TechCrunch. That likely means an endless stream of pinned Gauloises, animal liver and American Top 40 hits from the mid-2000s.
Pinterest's 48.7 million+ users are super into French stuff already, TechCrunch reports, probably because they bought this really cute book about how to act French at Anthropologie once.
But that doesn't necessarily mean French people will welcome Pinterest with open (and extremely thin) arms. The site wouldn't even tell TechCrunch how many international users it has, so maybe it's been tough for them to crack the Gallic market. After all, French people mostly just like to pout and brood. The enthusiasm Americans express over pink crap and photos of salads probably seems pretty gauche to the typical French person.
It could work out, though. France's dirty little secret is that, as in all European nations, many of its younger citizens are totally obsessed with all things American.
One French blogger introduced to Americans by Pinterest today calls the site a source of inspiration that's "très très addictif." So maybe the French won't end up telling Pinterest to vas te faire foutre after all.