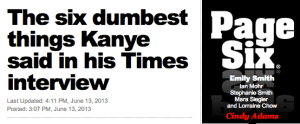 An anonymous New York Post staffer emailed media blogger Jim Romenesko this morning alleging that the Daily News, the Post's main competitor, had published "a whole story stolen from the Times."
The staffer was referring to an article that appeared in the News yesterday, titled "The ego has landed," which includes 16 quotes taken from a Times interview with Mr. West. (The interview was posted online on Tuesday but won't be published in print until Sunday.) The News article did attribute the quotes to the Times, but didn't link to the Times story. For the Post reporter, this was as good as stealing.
But perhaps Mr. Romenesko's tipster should have read his own publication more closely. Yesterday, the Post's Page Six published "The six dumbest things Kanye West said in his Times interview," a list of six quotes taken from the Times interview. Like the News, the Post didn't bother to link to the Times.
Times spokeswoman Eileen Murphy told Mr. Romenesko, "It is surprising that the Daily News didn't even have the courtesy to provide a link to our story…while it doesn't rise to the level of copyright infringement, it certainly seems less than honorable."
When we asked Ms. Murphy about the Post, she offered a clarification. "What seems 'less than honorable' is to summarize the interview and pick up large portions of it with minimal credit to The Times and no link back to our site," she wrote. "The link to [the interview] seems like the most basic journalistic courtesy and the least they could have done."