Descending into Lure Fishbar, one enters a world that is at once a fantasy of the moneyed life—the subterranean restaurant's gleaming teak panels and white leather banquettes call to mind the interior of some billionaire's yacht—and its embodiment.
A favorite of tech and media moguls, Lure is where the city's sleek and prosperous come to sup on $46 steamed lobster tail, socialites slurp their weight in oysters and Gwyneth Paltrow goes for dinner with Beyoncé and Jay-Z.
When it opened in 2004, Lure was both the apotheosis and the seeming endpoint of  Soho's transformation from an enclave for scruffy artists into an upscale shopping and dining district. Nine years later, Lure seems, if anything, even more at one with its surroundings, a short walk from Chanel and Louis Vuitton.
So it came as something of a shock when rumors started circulating this spring that Lure was closing because of a massive rent hike. Mom-and-pops have been struggling for decades, of course, and Soho has had more than its share of casualties. But Lure doesn't fit the profile of a beleaguered small business. Owned by John McDonald, a savvy veteran of New York's restaurant scene, Lure caters to the kind of clientele that does not balk at paying a   lot more for things they deem worthy. Moreover, it had washed into the neighborhood on the waves of gentrification in the first place.
The restaurant would hardly be the city's first beloved upscale establishment to fall victim to rising rents—in recent months, former celebrity hangout Boom and Nolita favorite Jo's have been shuttered. Rent hikes were even rumored to be menacing Balthazar and Pastis—restaurants that not only helped create downtown, but remain so popular that even regulars find it difficult to get reservations. And though the whispers were swiftly silenced by Keith McNally, the rumored rent hikes were apparently real, as the restaurateur recently told The Wall Street Journal that Pastis's landlord was asking for a 400 percent increase; he then bemoaned the fact that he was "at the mercy of the prices I created."
Further fueling rumors of Lure's impending closure was the fact that earlier that year, the restaurant's upstairs neighbor Prada was hit with a rent increase so massive that it prompted retail blog Racked to fret over the fashion house's future: "Could rising rents push Prada out of Soho?" Racked asked. Which prompted a question: if Prada couldn't afford Soho anymore, who could?
As it turned out, Prada could afford to pay what many considered to be an outrageous sum to keep its 10,000-square-foot Rem Koolhaas-designed showplace. In April, the luxury retailer acceded to the demands of Peter Brant, Prada and Lure's landlord, and renewed the lease on its Soho flagship for an unheard of $1,000 per square foot. It was, as Crain's reported at the time, the first four-digit retail lease recorded south of Midtown.
It is conceivable that Prada may have considered an alternate Soho location, but the luxury behemoth would hardly have dared to sacrifice its foothold in a neighborhood that international brands now see as a must-have in their roster of retail locations. Whereas once Soho was the kind of artsy address that could push an up-and-coming designer into tastemakers' view, it is now a global shopping destination that retailers can snub only at the risk of seeming irrelevant.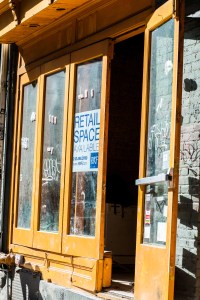 Soho's retail rents still lag behind the $1,500 per square foot that Madison Avenue commands (Soho rents generally top out between $600 and $800 per square foot) and remain far behind Fifth Avenue's world-record-setting highs of $3,000 per square foot. But they're catching up. Soho is now home to Balenciaga and Burberry, Versace and Vera Wang, and Audrey Hepburn fans can ogle pearls in a 7,000-square-foot Tiffany that opened last fall on Greene Street. It is the kind of place where both the world's leading luxury brands and its mid-market strivers (Uniqlo, H&M, Club Monaco, J.Crew and Zara) will pay to be seen no matter what it costs. Even if the sales numbers don't quite add up.
"I don't think any store goes in thinking that they're going to lose money," said Scott Galloway, a clinical marketing professor at NYU's Stern School of Business. "It's more that a lot of retailers come regardless of whether they're going to be profitable or not."
And big brands can afford to make less on a location or even take a loss—flashy flagships don't need to be individually profitable, so long as they stimulate sales elsewhere and burnish a brand.
"As a big brand, you have the power to be in the best locations. Even if you really make all your money elsewhere," said W. Doug McCullough, the co-founder of M&M Retail Luxury Consulting. "Ralph Lauren has four stores in East Hampton. The last time I was up there, I asked someone who was working what was going on, and he said, 'Oh, Ralph lives in Montauk and he wants the presence.' I don't think one of those stores makes money.'"
But what of independent shops? Just breaking even or shuttling an inadvisable percentage of sales into rent—the general rule of thumb is that rent should be no more than 15 percent—is generally not an option for an independent boutique with one or two locations.
"What we may see now in Soho and elsewhere is the latest retail Darwinism—the same national and international brands that pushed out the local mom-and-pops when rents accelerated may themselves be pushed out by the huge holding companies (the LVMH's, Kerings, Inditexes) that can afford the present market rents of up to $1,000 per square foot for a statement store such as Prada's renewal downtown," said Douglas Elliman broker Faith Hope Consolo. "Or three times that Uptown."
Even those that can afford rent hikes aren't always safe. Landlords sometimes refuse to renew leases with tried-and-true independents that are willing and able to pay for the privilege of staying. Some landlords are even willing to charge a mega-brand less rent. Ms. Consolo said that one of her clients—a very successful boutique on Prince Street—is losing its home of nine years despite being able to meet the landlord's daunting rent increase: the rent is tripling from $10,000 a month to $30,000. The boutique even offered to start the new lease before its old lease expired. The landlord wasn't interested.