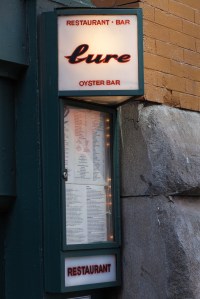 Although Lure devotees have taken up the cause of the embattled eatery (#savelurefishbar) and decried Soho's shifting retail makeup ("Soho will not be the same without that spot in that location!" tweeted modeling mogul Scott Lipps), owner Mr. McDonald told The Observer that he's still negotiating with Mr. Brant and is "optimistic that we can work out a deal to stay." (Though the Mr. Brant declined The Observer's interview request, a spokesperson did confirm that negotiations with Lure were moving ahead.)
Mr. McDonald accepts that he may wind up being priced out—he just wants the opportunity to pay what he called a "fair market rent based on comps and data." The only problem is that it's hard to know what market rate means in a neighborhood like Soho, where rents went up 35 percent in the first quarter of 2013, faster than those in any other neighborhood of the city, according to a study by Cushman & Wakefield.
While Soho's new status undoubtedly delights the landlords, it has left residents livid. International shopping districts do not generally make good neighborhoods in which to live, particularly when they were not built as such. In contrast to Fifth Avenue's wide sidewalks and vast storefronts—designed to accommodate huge retailers and shoppers who halt mid-sidewalk to gape at window displays—Soho's charms are embedded in the very things that make it ill-suited to bag-laden tourists: narrow sidewalks, diminutive storefronts and a sizable residential population whose needs are increasingly stymied by the neighborhood's new identity.
Soho is no longer the kind of gentrifying terrain where bodegas face off against organic food markets, diners succumb to gastropubs and dive bars give way to dance clubs. In Soho—quite possibly the hottest neighborhood on the planet—the amenities that signal an area's arrival as a desirable place to live have slowly vanished. Laundromats and dry cleaners are becoming very hard to find. As are food stores of any kind—Joe's Dairy just closed, and Pino's, a popular local butcher, is in danger. Its landlord is trying to evict the shop from its longtime home for allegedly obstructing the sidewalk. Thus, after decades of gentrification, Soho curiously finds itself in the pre-arrival state of outer-borough up-and-comers.
"On my way to the laundry, I ran into a neighbor who informed me that the Cafe Cafe is closing … due to huge increases in rent. So there goes my half-priced sandwiches after 5:30 p.m. that I live on around three days a week," wrote artist and longtime resident Allan McCollum in a recent Facebook post. "Then, saddened, I proceeded to the Broome Street laundromat where I've been getting my clothes washed and dried for what, every other week for 25 years? Totally closed, also due to huge rent increases. But the good news is, now I only have to walk half a block to buy a $4,500 purse."
Survival is no longer a matter of adapting to a changing neighborhood—organic egg breakfasts, panini and gourmet coffee could not save Cafe Cafe, despite the local demand for such foods—it's a question of scale. The market for a Soho store is no longer Soho residents or even New Yorkers, it's the global elite who are flooding New York with enough capital to support not only one or two, but three and maybe even five or six luxury districts.
"We've been fighting liquor licenses going back 20 years, and originally we were fighting them because they were displacing the galleries," said Soho Alliance director Sean Sweeney. "So the restaurants chased the galleries out, but now the retailers are chasing the restaurants out."
At least there's one thing that residents might be happy about in the new Soho: how quiet the nights are. Now that the bars and restaurants are disappearing, the empty cobblestone streets are almost eerily like their former selves.
"Soho has become like Madison Avenue—deserted in the evenings," said Cesare Bruni, the co-owner of Boom, which got pushed out of its space on Spring Street last year when the building's longtime owner sold and the new owner doubled the rent. "The stores become like phantoms at night."