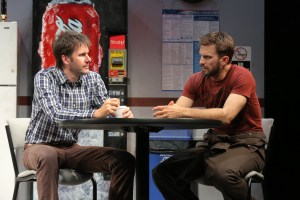 Reasons to Be Pretty, which debuted at MCC Theater in the spring of 2008 and played a short run on Broadway a year later, was Neil LaBute's first happy play. There were people being lousy to each other, of course, and lots of yelling, and a memorable fistfight, but the play—about four young working-class friends and partners coming to grips with their dead-end lives and trying, maybe, to make them better—left its characters in the end not emotionally eviscerated but instead vaguely hopeful. By Mr. LaBute's misanthropic standards, this was a gallop into the sunset.
In Reasons to Be Happy, which opened last night in an MCC production at the Lucille Lortel Theatre, we get a glimpse of their maybe-possibly-happily ever after. These same four characters aren't really happy, and, as directed by Mr. LaBute, this is a quieter play than its predecessor. But it's a sharp, melancholy, crisply acted look at the roadblocks we put in the way of our fulfillment.
It's three years later, and, as the lights come up, nebbishy nice-guy Greg (Josh Hamilton, charmingly aw-shucks) is in a screaming fight with the verbally abusive Steph (The Office's Jenna Fischer, steely and tough). In Pretty they were a couple; now they are fighting because Steph, who is married, has learned that Greg is dating her best friend, Carly (the lovely Leslie Bibb), and she feels betrayed. Carly, who works as a security guard at the warehouse in which Pretty was set, has a young daughter and an ex-husband, Kent (a funny Fred Weller), who is the least changed from three years ago: still a former-jock tough-guy working stiff in coveralls, still struggling with rage.
Greg has finished college and is working as a substitute teacher; in tweed coats and knit ties, he dreams of teaching high-school English. His life with Carly and Jessica, her daughter, is contented, if a bit dull—still, he hasn't moved in. When Steph finds herself in this jealous rage, the two former lovers recognize the spark that remains between them, and Steph hatches a plan for them to leave their relationships and reconnect. She does, filing for divorce, but Greg can't commit to it—especially once he learns Carly is pregnant.
And so the women present him with a remarkable option: which one of us do you want? Milquetoast Greg doesn't know. He waffles; he doesn't want to hurt anyone. It's luggish Kent who, amid stories of bar brawls and threesomes, provides Greg with the advice he needs. "Sometimes you gotta just do something, you know? … Even if it's a fucking mistake—and I've made plenty of 'em, believe me—you gotta go for it. You gotta just man up and—whatever. Make a stand."
Greg does—in his passive way. He'll move to New York to take a promising teaching job, and the woman who wants to come with him can. Neither does, but Steph hints that one day she might join him there. Greg has made as much of a stand as he can, and Mr. LaBute has left us with as much as hope as we're going to get.
The middle third of John Guare's 3 Kinds of Exile, which opened last night at the Atlantic Theater Company, is engrossing, and, even though it's just two actors pacing a stage, thrilling. The parts that come before and after, however, don't compare, and together they put this new play, a collection of three stories exploring the emotional and spiritual dislocations caused by exile from Europe during World War II and the Cold War, somewhere between a pleasure and a chore.
In the first section, an unidentified man tells the story of a friend, an Eastern European-turned-Englishman saved from the Holocaust by a mother who sent him away on a kindertransport. A fable about the burdens of childhood terror and the uncertainty of an émigré's life, it is a slight but pleasant amuse-bouche for what follows, and it is compellingly, avuncularly told by Martin Moran. The final section, by contrast, is weighty, lengthy and sometimes near-incomprehensible. Based upon the life of Polish writer Witold Gombrowicz, it is, I guess, a fever dream of dislocation, a creative exile's interior monologue of guilt and relief. It is the most theatrical portion of the evening—director Neil Pepe, the Atlantic's artistic director, has staged a clever and amusing pageant, complete with line-dancing packs of Polish officials in striped pants, and the always-excellent David Pittu plays Gombrowicz—but it is also the least memorable.
Ah, but the middle part. It opens with wooden podiums on the bare stage, two men behind them, and a painting of a woman in a red gown projected on the wall above them, as if two art historians are about to deliver a dual lecture. One of the men is Mr. Guare, the other is Omar Sangare, a noted Polish-American actor and director (and a professor of theater at Williams College). The woman in the portrait is Elżbieta Czyżewska, who was the greatest Polish actress of her generation. Or at least was poised to be, until she married David Halberstam while he was the New York Times bureau chief in Warsaw, moved with him to New York after his expulsion from the country, was herself banned from Poland some years later. In the United States, her life slowly fell apart as she divorced, lost out on role after role and even lost her walkup Times Square apartment after a beam fell from the Condé Nast tower under construction down the block.
Mr. Guare knew Ms. Czyżewska, and he wrote this piece as a tribute to her. Mr. Sangare also knew Ms. Czyżewska; he played Paul to her Ouisa in the Polish premiere of Mr. Guare's Six Degrees of Separation. The two, who remain anonymous lectors, trade off recounting her sad story, sometimes narrating, sometimes playing characters. The effect—the simple recounting of this almost Gothic story—is mesmerizing. It is the most straightforward of the exile tales in 3 Kinds of Exile, and it is the most affecting. It makes the evening worthwhile.
How do you assemble a play from the work of a great essayist? With Sontag: Reborn, which is drawn from the writings of Susan Sontag, the director Marianne Weems and the actor Moe Angelos strive to make the page come alive on the stage. That they nearly succeed is testament to the power of Sontag's writing.
The stage of New York Theater Workshop, where the play opened last week, is arranged as Sontag's work space—there's a large table with a typewriter, books, an ashtray, lamps and a turntable arrayed upon it. As Sontag, Ms. Angelos sits at, paces behind, even crawls upon this table. Meanwhile, there is a scrim in front of the table, onto which a different version of Ms. Angelos as Sontag, an older version reflecting back on life, is projected. From time to time, the two Sontags interact. Finally, there is a screen on the upstage wall, onto which the image of the desktop is projected. We watch from this bird's-eye view, like the tilted mirror above the chorus line in 42nd Street, as books are tossed on the desk, as Ms. Angelos lies on it, as Sontag writes.
It's a lot of staged artifice, to provide visual texture to a solitary and stationary pursuit: sitting and writing. It's a pleasure to listen to the forceful and confident Ms. Angelos as Sontag, as Susan puzzles through and examines life, sex, love, books, Europe, New York, art, camp and more.
But the smoke and mirrors can't totally obscure the fact that Sontag: Reborn isn't a play so much as a reading. The lack of drama or story ultimately leaves Ms. Weems and Ms. Angelos at a loss, with no way to end their show. Seeming to have thrown their hands up, they project an array of Sontag phrases on that front screen. (A solitary "Ionesco" stands out in my mind.) It is, for the climax of a show about a woman so obsessed with both words and sex, a sort of orgasm of erudite language. And it can't help feeling a bit faked.
editorial@observer.com