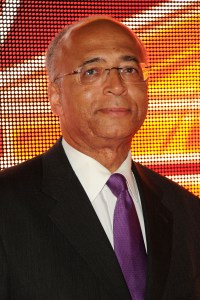 The Council of School Supervisors and Administrators endorsed Bill Thompson today, adding a major education union to his labor tally one day before the influential United Federation of Teachers is set to make its pick.
The union, representing nearly 16,000 public school principals and education administrators, said Mr. Thompson's commitment to appointing an educator as schools chancellor, as well as his belief that New York City should be a more affordable place for the middle class, led members of the executive committee to vote to back him.
"They are happy with what he had to say about New York City looking to the future," said CSA President Ernie Logan in a conference call with reporters this morning. "It's about really looking at what works and supporting it … and if there's something that absolutely makes no sense, stopping it."
Mr. Thompson, whom insiders expect to receive the backing of the UFT tomorrow, would not say whether or not the CSA endorsement was an indicator that the powerful teachers' union would also be in his corner.
"This is about this endorsement and how proud I am to have the support of CSA," Mr. Thompson said. "This is not an indication of anything, this is about this endorsement. "
Perhaps betraying how ideologically similar some of the Democrats are when it comes to education and other policy points, Mr. Logan, when asked by reporters, could not explain why his union's endorsement had gone to Mr. Thompson and not, say, Public Advocate Bill de Blasio, who has made public school advocacy a centerpiece of his campaign.
"What separates them is that my members have voted to endorse Bill Thompson," Mr. Logan replied. "I can't dig down deep and say what everybody thought individually. My members have heard them all and selected Bill Thompson as the person they should endorse."