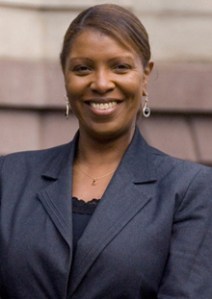 As candidates for public office wind their way through various organizations' endorsement screenings, they are often requested to fill out questionnaires detailing their specific stands on a given group's most important issues.
However, one Democratic club, New Kings Democrats, recently took things a bit further and presented candidates with surveys designed to showcase their creativity and wit, including questions on which actor or actress would play them in a movie and what items they'd want if stranded on a desert island.
Here are some of our favorite answers, courtesy of the New Kings Democrats and the candidates for public advocate:
If they were making a bio-pic about you, what would it be called and who would play you?
State Senator Dan Squadron:
"On a Clear Day, You can Maybe See a Few Feet In Front of You: The Albany Experience," starring Clive Owen. Narrated by Werner Herzog.
City Councilwoman Letitia James:
"Fierce" and Queen Latifah
Girls Who Code founder Reshma Saujani:
Reshma Shetty in "A Woman Who Doesn't Wait in Line"
If you were shipwrecked, what three items would you want to land onshore with you?
Mr. Squadron:
A helicopter. A pilot. Dark rum.
Ms. James:
Water, a good book and my Blackberry. Of course I'd have my lip balm for good measure.
Ms. Saujani:
Kindle, my dog Stanley, Bollywood tunes
Assembly candidate Jason Otaño:
Machete, Axe, Fishing pole
What song is currently playing in your head?
Mr. Squadron:
A mash-up of "No Surrender" and "Sure Shot"
Ms. James:
John Legend, "Tonight Best You Ever Had"
Ms. Saujani:
Alicia Keys, "Girl on Fire"
Mr. Otaño: "
Stuck in the Middle with You"–clowns to the left of me, jokers to the right. here I am stuck in the middle with you.
(Photos: Getty/NYC Council)