Toddler fashion has a new face, and her name is Quinoa.
Quinoa is basically just your typical preteen–a hip firecracker with flawless style, razor-sharp wit and private school credentials.
Her playmates are named Elias, Hawkeye, Jasper and Chevron. Her look has been emulated by the likes of Heidi Klum and Rachel Zoe, and she reads Keats along with her Kipling. She even has a book deal. Also, she doesn't really exist.


"Quinoa always keeps a spare 'urban outfit' in my purse in the event we're going to be around a lot of chain link fencing," her imaginary mother writes on the fabulously addictive Pinterest board My Imaginary Well-Dressed Toddler Daughter.
"Quinoa absolutely loves a juxtaposition. And irony. And gummi bears."
Commenters seem to love her just as much as her would-be mommy does. Most comments are of the "LOL" variety, but some are getting in on the fun.
One jokes, "Quinoa is everything I want my daughters to be. Where have I gone wrong?"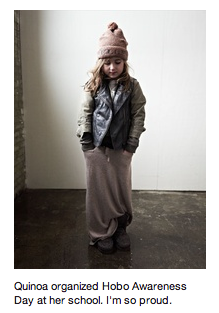 At least we hope she's joking.
Though Quinoa was created by Philadelphia mother and freelance writer Tiffany Beveridge, Quinoa seems to resonate with mommies worldwide.
Her avant-garde attire has been analyzed in parenting blogs like The Stir, Rage Against the Minivan and Mommyish.
But, like Fucked In Park Slope, we can't help but picture her as a purebred New Yorker, mostly because we're certain there's a gaggle of Manhattan mommies out there would love nothing more than to have a Quinoa of their very own (and who are we kidding, there are a few real-life Quinoas in NYC already–ahem, Suri Cruise).