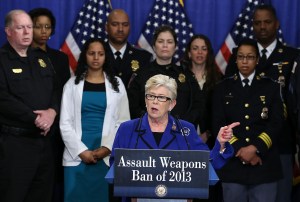 Long Island Congresswoman Carolyn McCarthy was diagnosed with a treatable form of lung cancer, she announced in a statement this evening.
"My doctor at Memorial Sloan-Kettering Cancer Center, where I'll receive my treatment, has told me that I begin my treatment in good physical health and that he looks forward to my return to work after I recover," she said. "My family and I will appreciate privacy while I undergo my treatment."
Ms. McCarthy, 69, was first elected to office in 1996 and has since become one of the fiercest gun control advocates in Congress.
Read her full statement below:
"My recent annual health physical revealed that I, like so many millions of Americans, have a treatable form of cancer.

"Several diagnostic tests have led to a diagnosis of lung cancer.  A treatment plan will begin soon and I look forward to its successful completion.

"My doctor at Memorial Sloan-Kettering Cancer Center, where I'll receive my treatment, has told me that I begin my treatment in good physical health and that he looks forward to my return to work after I recover.  My family and I will appreciate privacy while I undergo my treatment.

"There will be some tough days ahead and I will have to miss activities in Washington during my treatment in New York, but I will continue to be a strong advocate for the 4th Congressional District — and I remain committed to improving Long Island's schools, improving public health and safety, improving our economy, and protecting our seniors and veterans.  My capable and longtime staff will continue to support the needs of my constituents.

"I am a fighter, as many people know, and I am committed to beating this latest challenge in my life.  I'm grateful for the support and love of my family, friends, colleagues, and staff.  I look forward to a successful treatment and returning to continue the mission that I've started as a Member of Congress."