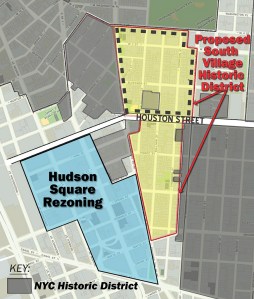 This afternoon, the Landmarks Preservation Commission will hold its first and only hearing on the second phase of the proposed South Village Historic District—the formerly working-class section of Greenwich Village that local activists and preservationists say is now under intense development pressure in the aftermath of the Hudson Square rezoning.
While many in the local community have long agitated for landmarking, and the first phase of the process was approved in 2010, the hearing for the second phase hearing remained unscheduled until the Landmarks Commission agreed to hold a vote before the end of this year as a condition of the Hudson Square rezoning, though only on the section north of Houston Street.
The Commission has also committed to surveying the southern half of the proposed district—the first stage in the landmarking process—by the end of this year.
Preservationists say that the neighborhood's low-rise character has been menaced as the areas around it morph into hot spots. Indeed, developers have already made significant incursions into the area, which is bounded by Sixth Avenue and West Broadway, West 4th to the North and Watts to the South.
"It has taken many years to get here, and consideration of landmark status for the South Village is not coming a moment too soon.  In fact, sadly, we have lost many of the neighborhood's wonderful historic sites waiting for the City to act," wrote Greenwich Village Society for Historic Preservation Executive Director Andrew Berman in a release. Among those demolished were the Provincetown Playhouse and Apartments, the Circle in the Square Theater and a 1824 townhouse at 186 Spring Street that housed a number of gay rights activists during a pivotal moment of the movement.
Of course, there are no guarantees that either the district's northern and southern halves will even be approved at all, but the hearing is a significant step forward.
And if the district does attain landmark status, the South Village will be saved in body, if not in soul. Landmarking can arrest many changes, but as Soho's transformation into a global luxury shopping district indicates, character and economic diversity cannot always be saved along with a neighborhood's architecture.