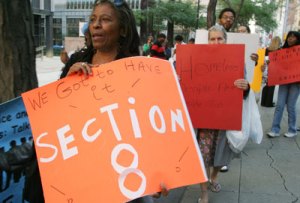 New York is a city beset by an affordable housing crisis—market forces are eliminating affordable units faster than the city can add them, even rents in the least-expensive neighborhoods are beyond the reach of low-income workers—and now, major cuts to Section 8 program threaten to further reduce low-income New Yorker's access to affordable housing.
Federal sequestration will cut $120 million from the rental subsidy program, according to Crain's. To deal with the cuts, government agencies that administer the housing vouchers may reduce the number issued this year by as many as 6,000; other cuts will come in the form of reduced subsidies, forcing tenants and Section 8 housing providers to pick up the slack.
The three agencies affected by the cuts—the Department of Housing Preservation and Development, the New York City Housing Authority and the state's Department of Homes and Community Renewal—will all need to cut the number of new vouchers issued (reducing the likelihood that the long-closed waiting list will ever re-open) and may also need to change the subsidy formula, trimming subsidies from anywhere between $100 to $400 a month, Crain's reported. Officials acknowledge that the cuts will be problematic, particularly for elderly and disabled residents who have no possibility of increasing their monthly incomes, but say that there is little they can do. The one bright spot, for now, is that agencies do not yet plan to revoke vouchers—though that remains a possibility if cuts continue.
"The real problem is, these are our neediest tenants, the ones who cannot even afford the units in our developments," HPD Commissioner Mathew Wambua told Crain's.
The cuts come at a particularly brutal time, given the shrinking pool of affordable housing in the city and the growing percentage of New Yorkers working in low-income jobs. In January, the city's homeless population exceeded 50,000—the highest number since the Great Depression. An increase, according to advocates, that is connected to the difficulty of obtaining affordable housing in the city and the precarious situations in which a growing number of families live. Section 8 subsidies currently help to pay the rent of 214,000 New Yorkers—enabling them to remain in apartments which would otherwise be unaffordable, including some in already-subsidized HPD and NYCHA developments.
The fall-out from the loss of funding will no doubt hurt both low-income landlords and tenants. And while the cuts are not entirely unexpected—it is not the first time time that the federal government has cut Section 8—they are the largest since the programs' creation. Advocates hope that the cuts will only be a temporary measure, but Crain's reports that funding may never be restored. Regardless of whether it is or not, New York City should plan for a future in which the need for affordable housing increases even as state and federal funding diminishes.