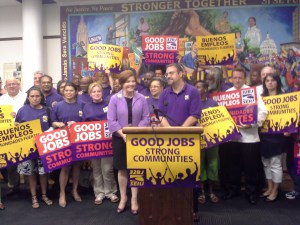 Council Speaker Christine Quinn scored the endorsement of 32BJ SEIU this afternoon, boosting her mayoral campaign with its biggest union nod to date.
The support, which was announced a little after 2 p.m. at a press conference at the union's headquarters, will lend Ms. Quinn's campaign a powerful and heavily-Latino union that represents tens of thousands of building services workers across the city.
"For quite some time, he's taken my phone calls, given me advice, called me when I wasn't smart enough to ask him for advice and gave me advice and always been a friend and a shoulder and an ear and that's what we need to get things done," Ms. Quinn said of her relationship with the union's president, Hector Figueroa. "The way we are going to make this city a better place, a place for greater opportunity for working men and women, a place that really is a beacon for the middle class is if we're united as a team. And that's what we're going to be when I'm mayor."
One of the most coveted labor endorsements in the race, the union was also mulling endorsing Public Advocate Bill de Blasio, according to a source, but, as expected, ultimately chose Ms. Quinn at least partially because she worked closely with them while negotiating paid sick day legislation.
Clad in the union's color of purple, Ms. Quinn was lavished with praise by both Mr. Figueroa and various members who came forward to extol her at 32BJ's headquarters in downtown Manhattan. Several times union members broke into "All in for Quinn!" chants.
Mr. Figueroa cited Ms. Quinn's work passing the paid sick day legislation as a reason for the endorsement, but said the union's executive board–which voted unanimously to back Ms. Quinn–was leaning toward backing her before she passed the bill. He promised, in addition to a robust door-knocking effort, to make independent expenditures on Ms. Quinn's behalf.
"We were already considering Speaker Quinn prior to the passage of paid sick leave," Mr. Figueroa said. "For us, the election is a process in which we look at the experience with the candidate. To us, the leadership she has demonstrated on prevailing wage, on stop-and-frisk, on a number of issues, this leadership we value. We do not necessarily need a mayor that will agree with everything we say."
While Ms. Quinn had bottled up the paid sick leave bill for years, citing fears that a frail economy would be further harmed by forcing businesses to grant paid sick days to workers, 32BJ worked closely with her office to finally get a version passed. According to Crain's New York Business, a member of Ms. Quinn's mayoral campaign actually set up a meeting between Ms. Quinn's government staff and members of 32BJ to cement a deal.
Overall, labor has split its might in the mayoral race as Mr. de Blasio and several other contenders have rolled out big endorsements of their own. Mr. de Blasio grabbed SEIU 1999, the powerful healthcare workers' union, for example, while former Comptroller Bill Thompson received the blessing of the teachers' union last week. And, although not as coveted as their better-organized rivals, Comptroller John Liu has the support of the sizable municipal workers' union DC 37. But Mr. Figueora and Ms. Quinn, were undaunted by labor's fracturing.
"Does this room feel split? I don't feel any split!" Ms. Quinn laughed as union members chanted behind her.
Mr. Figueroa jumped in after the cheering died down.
"I think that labor's strength has been felt before this year's election. The fact that the people who are running for office in the Democratic primary have deep roots with labor unions shows you that they feel confident that they can get the level of union support behind them," he said. "I don't think that labor is divided in this race."