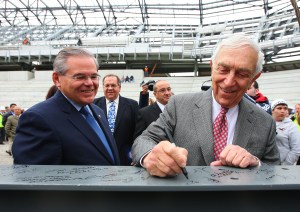 While conflicting, state statutes give Gov. Chris Christie potent arguments to make to schedule the statewide election for U.S. Sen. Frank Lautenberg's (D-NJ) seat on a date other than this year's November gubernatorial election.
Tasked to succeed Senator Lautenberg, the governor's choice can remain in the seat until a special election of the governor's choosing, potentially as late as November of 2014, according to one reading of state law.
The short list of potential GOP successors to Senator Lautenberg includes the following:
Republicans
State Senator Joe Kyrillos
The Chris Christie loyalist ran statewide last year against U.S. Sen. Bob Menendez (D-NJ). Soundly defeated, he nonetheless had the bad luck of having to run through Hurricane Sandy, which disabled his headquarters in the lead-up to Election Day.
Lieutenant Gov. Kim Guadagno
Gov. Chris Christie's LG has run statewide before, in 2009, and has spent the last three and a half years very politically active. She is the New Jersey Republican Party's most visible woman.
Senator Tom Kean, Sr.
New Jersey's former Governor is a natural choice in some party establishment circles. Proponents of the pick make the case for gravitas and say Democrats will get no traction calling him a partisan who violates the voters' will to have a Democrat in the seat.
Senator Tom Kean, Jr.
He ran once before, against Menendez in 2006. His father was Christie's political mentor and still has substantial clout with the party and considerable respect.
Assembly Minority Leader Jon Bramnick (R-21)
The Christie loyalist has been a trusted ally of the governor's in the Legislature and is popular in establishment Republican Party circles.
Bill Palatucci  
An outside the box choice, Mr. Palatucci's name nevetheless surfaced early today as a potential choice.  A Republican National Committeeman, Mr. Palatucci has strong national GOP ties and has been at the heart of Mr. Christie's torrid fundraising effort.  The downside to the Christie confidante is little to nonexistent name recognition among the electorate.  Mr. Palatucci was recently hired by power law firm Gibbons P.C.
Mr. Christie will likely appoint a Republican to the seat for obvious reasons, sources from both parties say.  However, the state has not elected a Republican to the seat since Clifford Case's last election in 1972, so his choice will no doubt have staunch opposition.
Read PolitickerNJ for more potential names and intrigue.