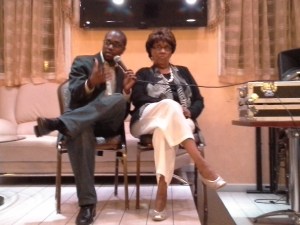 She may have already admitted to corruption, but it was not her fault that she was prosecuted, former State Senator Shirley Huntley repeatedly insisted today. She provided many excuses.
A month from serving a year-long prison sentence, Ms. Huntley claimed, for example, that she was singled out for an investigation because she didn't tell her constituents that the current attorney general's electoral opponent was "a racist and only locks up black people" during the campaign.
"He was upset with me about certain things that he wanted me to do," Ms. Huntley said of Attorney General Eric Schneiderman, a former colleague in the State Senate before he ran for higher office in 2010. Mr. Schneiderman faced a crowded field in the Democratic primary, including Nassau County District Attorney Kathleen Rice, whom Ms. Huntley alleged she was asked to malign.
"I was not a fan of Kathleen Rice because I don't know her but I was not going to do anything that was going to damage her reputation," Ms. Huntley explained. "I wasn't going to do that. I was not going to go to black folks and tell them they need to jump up and down and say, 'Kathleen Rice is a racist and only locks up black people.'"
Ms. Huntley, sitting down with political commentator and journalist Roy Paul in the backroom of a St. Albans, Queens bar, did not deny her guilt but instead sought to portray herself as a victim of a political establishment that wanted her out.
According to Ms. Huntley's history, Mr. Schneiderman spearheaded an investigation as a result of their campaign quibbles, leading to her arrest and charges that she embezzled more than $100,000 from a sham nonprofit agency she founded. She ultimately pleaded guilty and admitted to the misdeed.
"A lot of people know this was a political attack, regardless of what I did, it's how it was handled," she said. "It was a political attack, that's what it was … What I am saying is there are certain ways you do your job and you need to give the same respect to the black community as you do to other communities and that has not happened."
Characterizing herself as a "lone ranger" with "no social life" in Albany, Ms. Huntley said she was further targeted because she did not belong to the "boys' club" of the State Legislature, which apparently included Mr. Schneiderman and her Queens colleague, State Senator Malcolm Smith, another person Ms. Huntley blamed for her current legal predicament. She said Mr. Smith resented her because she did not vote for him when he was elected to be the Senate's majority leader.
"[Malcolm Smith] told people he was going to take care of me," Ms. Huntley said.
Ms. Huntley described an alleged conversation she had with State Comptroller Tom DiNapoli that she claimed revealed Mr. Smith tipped off investigators.
"Tom said to me, 'I can't go into detail, but this is not my idea, but I can't go into detail.' I said, 'Tom I need to know more than that. Where is this coming from? Forget about anything I've done or haven't done, where is this coming from?'" Ms. Huntley recalled. "And he says, 'They came to me from Malcolm Smith and after I decided it was really no reason to go forward, I was told to give it to Eric Schneiderman and he would take care of it.' And that's what happened."
(Mr. Smith would later be arrested and charged with corruption in a separate bribery scheme.)
More strangely, Ms. Huntley claimed that her embezzlement scheme dated back to 1994 and did not occur when she was serving as a state senator, though Mr. Schneiderman's indictment said the nonprofit was created in 2006 and she secured a member item for it in 2008.
"The bottom line is, I was not in the Senate, I was not in the Senate when the case happened," she said. "This was something that went back to 1994. So I was not in the Senate doling out money to anyone–I had no money to dole out. I didn't go into the Senate until 2007, I want you to understand that."
"But as I see it in the papers and the papers reported, it's almost like I was in the Senate and I gave out hundreds of thousands of dollars, that is not fact at all. I was not there," she added.
It was the third interview Ms. Huntley has conducted since she pleaded guilty. She previously opened up to the Daily News, where she again accused Mr. Schneiderman's investigation of being politically motivated. Mr. Schneiderman's spokesman wasn't immediately available for comment for this story, but dismissed the disgraced pol to the News. "It's no surprise that a criminal who is going to jail for lying and stealing is lashing out at the prosecutor who brought her to justice," he said.
The entire interview today, conducted in front of reporters and a handful of supporters, seemed to be an attempt by Ms. Huntley to soften her image. She wanted to make a few other things clear as well. For example, she disputed a Post report that said she showered money on her pet white poodle.
"Now, never in my life, have I owned a white poodle. Never," she insisted.
Ms. Huntley also said she has more friends now than ever before and is looking forward to celebrating her anniversary and birthday before beginning to serve her sentence.