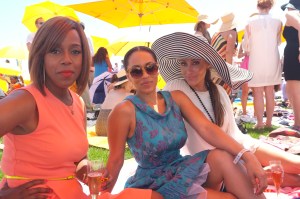 Bill Cunningham hunched behind his camera last Saturday morning, snapping photos of those lined up at the southern tip of Manhattan waiting to board a ferry to Liberty State Park for the Veuve Cliquot Polo Classic.
"Watch your pedicures," a ferry hand said.
It wasn't just the women who were looking sharp, however. New York City's entire yuppie population seemed to have turned out, and they were all playing an elaborate game of dress up. Even Matthew McConaughey, one of the hosts of the event, had been forced to put on a shirt.
Men were resplendent in bow ties and sockless brogues and every color of pants imaginable. One gentleman wore a floral-patterned shorts suit. The women, meanwhile, flopped about in wide-brimmed straw hats and summer dresses, most of which seemed to have entire segments of fabric missing—the backs, the sides or even (portions of) the fronts—just begging for sunburn.
Looking particularly dapper in yellow shorts and a navy double-breasted blazer was a man named Jason Simon, a speech-language pathologist, who was here as part of a reality show called City Sisters, slated to premiere on Bravo later this year.
"I am the reported love interest of someone I'm not interested in," he told the Transom. "I didn't know I was her love interest until she invited me out, and then I was on camera."
How did he get roped into that, we wondered?
"Dude, you meet people—you know what it is? I'm a tall, attractive male who women want to objectify. I'm muscular. Women like tall, muscular guys. 'Oh, okay, he's a tall, muscular guy and he dresses and he has a job!' Women like tall, muscular guys who dress and actually have a job. If I say what I am on paper, it looks good on paper, so that's it," he said.
Mr. Simon, who is also starting a fashion business this week, according to his manager (yes, speech-
language pathologists need managers too, apparently), has something else going for him: he's 27. "Sexually, you're at your peak," Mr. Simon smiled.
The Transom retreated then to our picnic blanket, where we happened to be sitting next to one contingent of City Sisters. According to Bravo's website, the City Sisters are "a group of single, up-and-coming movers and shakers in New York's elite circles of real estate, fashion, and media. These ladies are aggressive in their pursuit of personal and career goals, but in this cutthroat world where egos are high and the drive to succeed is even higher, success can come at a steep cost."
We approached the sisters, who were attended to by a variety of earpieced producers and clipboard-carrying staffers as they lazed under a beach umbrella, fanning themselves and twirling a parasol. They declined to talk to us or even divulge their names—something about contractual constraints. Or maybe they were simply crushed by the news that stud polo player Nacho Figueras had been relegated to spectator status due to a broken bone.
As the national anthem began, a producer in a pink collared shirt and a seersucker cap spoke to the stars of the show. "When this ends, talk about whether you're going to watch the match," he said.
They did not watch the match.
Three umbrellas away there was another group of City Sisters in attendance, the Transom soon learned. They, unlike their co-stars, appeared to be watching the action on the field. Hmm. Seemed like there was a real clash of personalities in the works!
Back at the original umbrella, the producer had a new conversation-starter: "Ladies, let's talk about Geneva."
Was Geneva a character on the show, we wondered? Another city the sisters might soon be visiting?
Guess we'll have to tune it to find out.