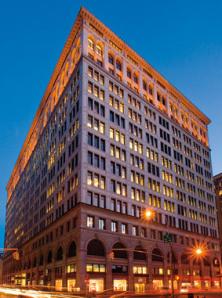 As Facebook expands in New York, it's doing it in a very fanciful manner. A company spokeswoman told Betabeat that its new office space at 770 Broadway will be designed by starchitect Frank Gehry with "open floor plans, natural lighting, and an emphasis on space for collaboration." And probably zero straight lines.
The new outpost is double the size of Facebook's current office on 335 Madison Ave., which will be shuttered. The entirety of FBNY will move in early 2014 into the spacious 100,000 square feet space in the Village where it will house people from sales, marketing, engineering, design, marketing, and communications. Facebook will be sharing elevators with Aol/Huffington Post, Billboard Magazine, and J. Crew and its lease term is for 10 years.
And, brace yourself, your office envy is about to grow: here's going to be "plenty of video conferencing equipment" and a full-service kitchen. But, so sad, employees will have to settle for a complimentary gym membership, because there's no room to just build Facebook's own facility.
The team sounds downright starstruck to be working with Mr. Gehry, who is currently designing the expansion of Facebook's headquarters in Menlo Park:
We've been extraordinarily pleased with his ability to delivery an incredible quality of design at a remarkably efficient price.  In fact, just as he did with our West Campus expansion, Frank has taken our budget needs into account with this building to ensure that it is both economical and efficient.
It's unclear if the website is paying Mr. Ghery in Facebook Credits since that would be very economical and efficient.