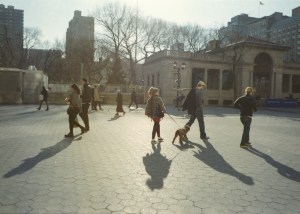 Fine dining is officially on the menu in the Union Square Park Pavilion.
On Tuesday, a state appeals court ruled that Union Square's popular pop-up holiday bazaar can continue to operate, ending a five-year attempt by the Union Square Community Coalition to eliminate commercial uses of the park, DNAinfo reported. The new ruling overturns a New York State Supreme Court injunction issued in January of this year, which prevented the City and Parks Department from operating the Christmas market or moving forward with plans to open a high-end restaurant at the northern end of the park.
In a unanimous decision, the Manhattan Appellate Division gave chef Simon Oren of 5 Napkin Burger the go-ahead to open a 200-seat restaurant at the Union Square Park Pavilion.
"Seasonal amenities such as outdoor cafés and bazaars enhance the park experience for City residents and visitors alike," city lawyer Michael Cardozo said in a statement.
Mayor Bloomberg first unveiled his plan to redesign Union Square Park in 2004, amid cries of, "Parks are for kids, not for restaurants." The initiative was equally unpopular with the Union Square Community Coalition, a not-for-profit organization that aims to "return the park from its dramatic deterioration to its historically significant role as one of the great open spaces in New York City."
At the time, Mayor Bloomberg pointed out that commercial attractions within parks in fact help to fund the park's upkeep and maintenance budget, shrugging, "How do you expect us to pay for parks?" This may be particularly true now, as the city's parks budget continues to take a hit.
And this would not, of course, be the first high-end restaurant to occupy a city park. The historic Tavern on the Green famously operated out of Central Park for nearly seventy years–although it of course occupied a much smaller swath of the 840-acre park.
The Union Square Community Coalition contends that the city's limited parks facilities should be devoted to recreational, not commercial, uses. Coalition board member Geoffrey Croft said in a statement that "the Bloomberg administration and Union Square Partnership should be ashamed of themselves for trying to take away desperately needed play space in that community."
Under the proposed restaurant plan, dinner entrées would cost up to $33.95, with breakfast going for $15.95 and brunch for $19.95. Isn't that the real crime?