Since it hosted the 1988 Summer Olympic games, Seoul, South Korea has never looked back. Today the booming metropolis (population around 10.5 million) boasts one of the highest city GDPs in the world (competing with cities such as Tokyo, New York, London and Los Angeles). Thriving corporations like LG, Samsung and Hyundai are headquartered in Seoul and the resulting economic growth, long after the Korean War, has resulted in impressive development and prosperity. Seoul boasts some of the finest luxury shopping in East Asia and the city is rich with culture, entertainment and nightlife. Recently, NYO flew aboard Korean Air's monstrous and innovative Airbus A380 to Incheon International Airport to behold the winter 2013 runway collections at Seoul Fashion Week organized by Innocean. Over the past decade, Korean fashion designers have established themselves both domestically and internationally, with a handful of venerable créateurs presenting in New York and Paris (namely Songzio, Lie Sang Bong, Bumsuk Choi of General Idea and Parkchoonmoo by Demi Choonmoo Park).
"My first customer, here in Korea, still comes to the show," Ms. Park told me after her show. Of course, she also presents her line in New York. But for her, it is very important to show in her hometown as well.
Song Zio, divides his time between Seoul and a residence in Paris, where he shows his premium men's line. "Seoul Fashion Week is more for presentation than for the media and press," Mr. Zio explained over lunch just a block from his Seoul atelier. For his menswear designs, he is inspired by the art of Francis Bacon, movies and books, as well as his own paintings. "I enjoy very classic artists," he told us. "My next season will be Manet, Manet, Manet!"
After the shows, editors, stylists and buyers took their private cars out and about to enjoy the best that Seoul has to offer. While Seoul is a modern, efficient mega-city, finding the most post and fun places there can still be a bit of an errand. To save you some trouble on your trip to Seoul, NYO has curated a list of some of our favorite spots.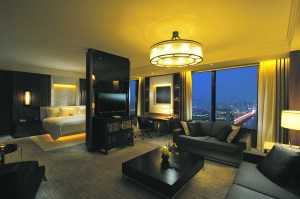 Lavish Lodging

Conrad Seoul 23-1 Yeouido-dong Yeongdeungpo-gu
Located in Seoul's financial district in Yeouido, the brand new, five-star, 38-story Conrad Seoul boasts 434 contemporary and elegant rooms, phenomenal service and stunning views of the Han River and Seoul's sprawling skyline. But it's not the high-tech rooms, fine Korean cuisine or its proximity to the adjacent IFC Seoul luxury shopping mall that makes the hotel so spectacular. Instead, it's the less obvious perks that pamper and please: The hotel's state-of-the-art, Wellness Zone fitness club, pool and Conrad Spa on the eighth and ninth floors or 37 Grill and Bar restaurant and the Executive Lounge on the 37th floor, which features stunning 360-degree views of the city.
Other fantastic lodging options: Grand Hyatt Seoul, Banyan Tree Club & Spa, Park Hyatt Seoul
"I love the nightlife…"
Cheongdam-dong and Gangnam-gu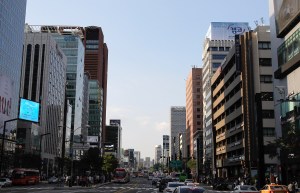 For many New York voyageurs to Seoul, it might be difficult to find a satisfactory place to imbibe and play. Many Koreans will point you in the direction to Itaewon, a hip section of Seoul in the middle of Yongsan-gu, on the northern part of the Hangang River. While there is a splendid Comme des Garçons boutique nearby, NYO found more fabulousness in the Gangnam-gu district. It's the place where K-Pop and couture collide! Cheongdam-dong is where trendy visitors to Seoul can find massive outposts of the world's prevailing luxury brands. And to think, forty years ago, it was mostly tame farmlands. The ultramodern architecture at boutiques such as Ermenegildo Zegna, Vera Wang, Lotte Department Store and Salvatore Ferragamo almost outshines the fashions. In 2008, Carla Sozzani's wondrous multi-brand destination 10 Corso Como opened a Kris Ruhs-designed version (79 Cheongdam-dong, Gangnam-gu, 10corsocomo.com). The glistening boutique carries a hand-selected, quirky array of superior brands and has a café that is perfect for taking a pause from rummaging at Dior and Fendi. In 2012, design temple INFINI opened and is a must-experience store for interior design aficionados. It's brimming with a world-class selection of B&B Italia, styled in an interesting, non-Western way (6-15, 79 Cheongdam-dong, Gangnam-gu, infini.co.kr/home).
When the night sky lights up with dazzling high-rises, the clubs of Gangnam, come to life. It's not as epic as say Tokyo, Shanghai or Hong Kong, but there are a handful of phenomenal choices. It's all about the weekend in Seoul, where mega-clubs fill up from 1a.m. until 4 a.m. or 5 a.m. NYO suggests starting with dinner by sampling Sun-hee Kim's traditional plates at Gae Hwa Oak (661-18 Sinsa-dong, Gangnam-gu, www.gaewhaok.com); then take cocktails—30 floors up—at COEX Intercontinental Sky Lounge; before ending the night with a 3a.m. fit of dancing at LOUND, Club Mass or Answer.
Other fantastic Cheongdam-dong options: Goraebul Restaurant, Jung Sik Dang Restaurant and Daily Projects boutique
Cultural Cravings  
Jongno-gu and Samcheong-dong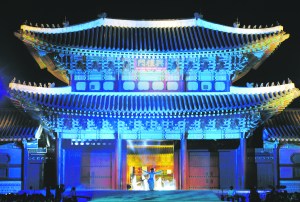 Unlike Tokyo or Paris, the modern scapes of Seoul overpower its historical past. Yet arts, culture and history remain vibrant and play a vital role in the capital. Jongno-gu district is the ground zero of most of the city's museums and sightseeing. If you have the opportunity to experience only one cultural site, make it the beautiful Gyeongbokgung Palace (22, Sajik-ro 9-gil, Jongno-gu). For only a few dollars, you can browse the premises of one of Seoul's five palaces and witness reenactments of historical royal ceremonies. Constructed in 1395 during the Joseon Dynasty, Gyeongbokgung, which means "Palace Greatly Blessed by Heaven," it is surrounded by the fast-paced city, but set in a backdrop of Mount Bugaksan and Mount Namsan. Having been razed several times and destroyed and left to ruin following the occupation of the Japanese—over many centuries—the palace's many halls and royal quarters, gardens and grounds have been restored to their original state, with dramatic Korean decorations, paintings and wallpapers. Next, explore the marvelous National Museum of Korea, which attracts some three million visitors a year and is the country's premier collection of international art, antiquities and historic objects. When NYO dropped in at the museum there was—of all things—an American art exhibit, and it blew us away. Who else to tell the story of 300 years of American art but a country 7,000 miles away from America. It was a fascinating show. Afterwards, we explored Samcheong-dong's top-notch art galleries, casual gift shops and concept restaurants.
Other fantastic Jongno-gu options: Leeum-Samsung Museum of Art, Changdeokgung Palace and Kukje Gallery