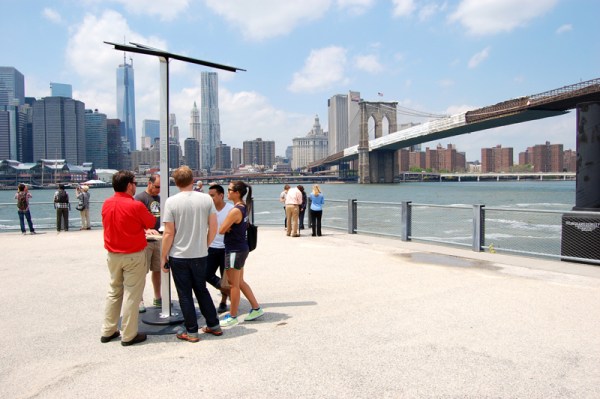 They're really going to strike a cord!
Beginning today, twenty-five solar-powered charging stations will be make their debut in New York City parks, beaches and outdoor spaces throughout the five boroughs.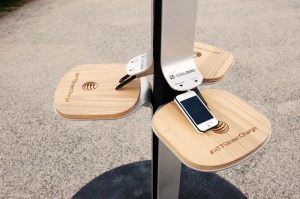 The 12.5-foot structures — a joint venture between the city and AT&T — will be popping up in places such as Union Square Park, Metrotech Plaza and the Rockaways Beach for three to four weeks at a time until October.
Dumbo-based firm Pensa designed the solar-powered stations and the entire project's estimated cost is between $300,000 and $500,000.
Each station will be able to charge up to six devices — regardless of carrier — including iPhones, Androids, Blackberry and standard USB charging cables.
"Solar mobile charging is a natural next step in AT&T's efforts to provide innovative services for New Yorkers that empower them to lead more sustainable lives," said Marissa Shorenstein, New York StatePresident, AT&T.
Can't wait to juice up? Here's where you'll find your quick fix:
Manhattan: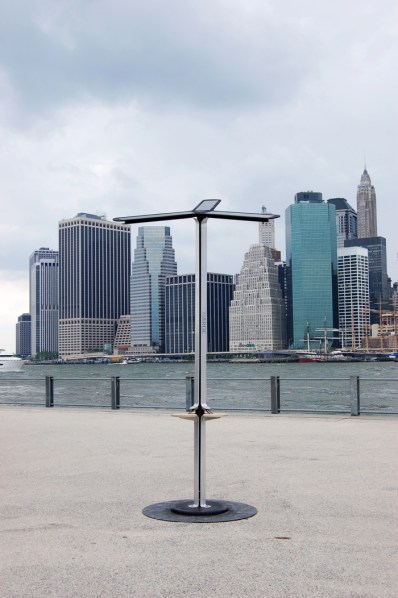 Riverside Park, Pier I (launches 6/18)
Union Square Park, North Plaza  (launches 6/19)
Rumsey Playfield, Central Park Summerstage
Hudson River Park Pier 59
Randall's Island
Brooklyn:
Brooklyn Bridge Park, Pier I (launches 6/18)
Fort Greene Park (launches 6/18)
Coney Island
Metrotech Plaza
The Dumbo Arts Festival
The Brooklyn Book Festival
Queens:
Rockaway Beach
Clearview Golf Course
Socrates Sculpture Park
Bronx:
Staten Island:
Governor's Island (launches 6/18)
La Tourette Golf Course
Staten Island Zoo