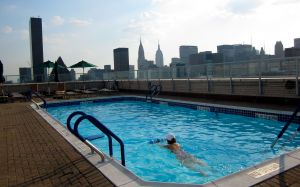 It is getting warm now, which means I'll be seeing my fellow tenants without clothes on. And that means we'll be talking again.
I live in a 40-story co-op on 56th Street, just east of First. Grandly known as Plaza 400, the building has some
1,500 people living in more than 600 apartments. When Memorial Day comes, our rooftop swimming pool opens.
The city's Department of Health and Mental Hygiene, which keeps track of some truly odd statistics, reports that of the approximately 150 pools in residential buildings in Manhattan, only about 15 are outside. And some of those 15 are in private town houses. Thus, our own rooftop pool is one of only a handful of its kind.
When I moved in, on a September day nine years ago, the pool was already drained for the winter, and our building felt like a house of strangers. I'd walk into the lobby, which is crowned with a Baccarat chandelier, and no one—except for the friendly staff—said hello. In the elevators, I'd timidly smile. Was that a returned smile? Was I being ignored?
Sometimes, I'd leave the elevator and hum the Doors' "People are Strange."
And then springtime came. I went up to the pool, and we were all in bathing suits and talking a blue streak. Finally, after almost nine months of living here, my wife, Roz, and I got to know people.
That woman in our gym I see five times a week? She skips rope. Never spoke to her from September to May. Now on the rooftop, as I swim toward the Empire State and Chrysler Buildings, we chat. We're both wet and mostly exposed.
In a way, we're all wearing uniforms, just like our building staff. They tell me that when they're leaving for the day, and are dressed in jeans and a polo shirt and have on a backpack, no one says hello. They are not recognized outside of their uniforms.
When we're lucky enough to have our Florida grandchildren visit, we impress them with our pool. They also like the neighborhood, and we take them for walks. Recently, we were strolling down East 55th Street, and there was Larry David filming a Curb Your Enthusiasm segment. The kids knew who he was. Hmm, I wondered, do I say hello to this guy who thinks everyone's a jerk? This was one of those moments when you think, what can you say to him without sounding stupid? Especially to Larry David. So I simply said hi and introduced him to my granddaughter Alexa.
"Very nice," he said.
Then I introduced him to my grandson Jordan.
"Very nice," he said again.
Now, when my family wants to make fun of me, they say those two words—"very nice"—and I'm reminded how much of a putz I must have seemed to Larry David. Loyal Curb viewers will surely recall the episode in which LD spotted his therapist wearing a thong at the beach and of course had to fire him at once.
Maybe it would have been different if he had been at my pool, in just a bathing suit, not covered up. We would have connected on a more human level.
A rooftop pool in the city with 40, 50, 60 people sitting around it—it's an anomaly. Consider that this is the town a million people come into every day. All strangers to one another. You can be standing next to someone on the subway for 40 minutes and not say a word to him. But drop your pants, take off your shirt, and now you're discussing the Mets or The Great Gatsby or the weather.
Being half undressed in the naked city makes for better neighbors. Really, it's very nice.