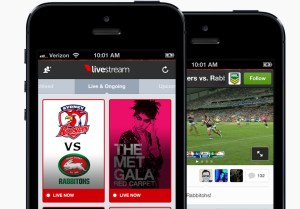 Livestream launches, mobile style Need to watch that annual dog show or all-important curling bonspiel, but can't get to a TV or computer? Fear not—Livestream's new mobile app for iPhones will let you stream live events into the palm of your hand (Livestream was previously only available on the web). The mobile app will also let you search for future events, and notify you when they're going live. Gotta go—looks like Paula Deen's issuing another apology statement.
Cornell NYC Tech goes corporate On Monday, Cornell NYC Tech announced it'd be adding a new feature to its future Roosevelt Island campus: a "corporate co-location" building, which will "house a mix of companies at the heart of the campus, facilitating the interaction between academia and industry." In other words it'll be internship central—am I right, Cornellers? "Cornell Tech is radically re-thinking how industry can collaborate with faculty, students and researchers, and corporate co-location is vital to making that a success," said Cornell Tech Dean Dan Huttenlocher, "[It's] exciting to see the physical campus coming together in a way that will advance our mission moving forward." Next step: not being on Roosevelt Island.
Nestio reveals its renovation Finding an apartment in New York City is generally placed on par with having to work in Times Square (in other words, it blows). Nestio is hoping to make the renting experience easier; they've launched their new online database designed to foster communication between renters, landlords, and brokers—it's like the Facebook of real estate (no word on whether hashtags are allowed). Forget frenzied emails and phone calls ("What do you mean I need a guarantor?!"); with Nestio, "landlords [can] communicate their information quickly and easily, brokers will have the most accurate information so they can rent apartments faster, and renters can have more confidence in their decisions."
Copyrighter Central is open for business So you were great at programming your startup, but you stink at writing about it. Look no further than the newly launched Copywriter Central. Founded by ex-Googler Samantha Quist, the online database matches companies with freelance writers for their business projects, provides online time logs and easily facilitates payments. Life's hard out there for a freelancer—hopefully now it'll be a little bit easier.
Get your sweet startup on sale So you know you want to invent the next Angry Birds and make millions—but where to start? Tech pro Dann Berg can help you out with his workshop tonight at 7p.m.: "The Non-Programmer's Guide to Getting an App in the App Store." According to the event page, Mr. Berg promises he can "flesh out the nitty-gritty details of your concepts and transform them into a solid game plan for getting an app into the App Store," all in the span of two hours. He must be confident he can make you the next David Karp, because the class has a 100 percent money-back guarantee. Time to head to Cannes and roll out the Dom Perignon, we guess.
Wheelin' and hackin' With Citi Bikes successfully hitting New York City roadways, it's high time someone develop some nifty new transportation apps. That's the idea behind #CitiBike #CivicHackNight, taking place tonight at 412 Broadway. Check out available Citi Bike data, network with other hackers and programmers and hear talks from tech specialists and members of the city's transportation department. There's also a Project Showcase, just in case you want to pedal an app you've already started (see what we did there?)