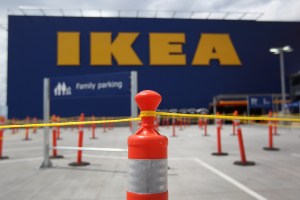 It's a love story as old as time. Girl goes on an IKEA shopping spree with her daughter, who is suspended from school. Girl sees Boy. Girl stalks Boy. Girl's daughter gives Boy her mother's phone number, and they live happily ever after.
On June 8th, Shirley and Berkely Smith, both 46, returned to the Elizabeth, New Jersey IKEA where they first met to tie the knot, amid the inescapable display-room maze where most relationships go to die.
"My daughter had gotten suspended from school so we were in there doing some shopping," Ms. Smith told GoodMorningAmerica.com. "He was in there. I saw him right when he came in, and I checked his finger to make sure he wasn't married. I followed him for about an hour."
For friends and well-wishers, we've rounded up a few gifts that the happy couple might appreciate.
ABC News Blog reported that when the couple arrived at the store at 9 a.m., the ceremony space was not yet ready, so "the bride and groom-to-be sat down and enjoyed breakfast, in the meantime."
We just hope they didn't have the meatballs.