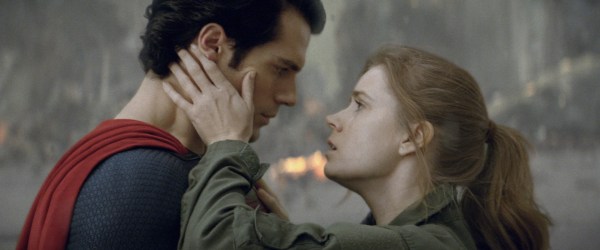 Just what we need now. Another movie about Superman. Man of Steel qualifies as one of those bloated, Byzantine summer blockbusters that is here today, gone by Labor Day. Now that I've seen it, clocking in at just under two and a half hours, I can file it under movies I never have to see again. Color it exhausting.
Here is an overproduced $225 million comic book with delusions of grandeur that was better made in 1978 and a lot more fun. Although he came from another planet, Christopher Reeve was a suave, all-American crusader for apple pie, the American Way and the good of man. In the reboot, Britain's Henry Cavill is an impossibly handsome, camera-ready hunk of beefcake milking camera angles for marketing ploys. He's no Brandon Routh in Superman Returns or Eric Bana in The Hulk. He's from TV's The Tudors, he looks like a Playgirl centerfold and he can probably act too, but you won't find out here. Upstaged in every scene by flying puppets and computer graphics, he's at the mercy of cornball writing, indifferent directing and the shadow of pretentiousness cast over the proceedings from start to finish by Christopher Nolan. Mr. Nolan already ruined Batman. Now he incinerates the innocence and humor of the Man of Steel, who registers more like a Model of Marzipan.
In all fairness, Mr. Nolan is only the producer, but hack director Zack Snyder is so under the influence of his dedication to style over substance that he seems to be receiving directions through a wire in his ear. Despite an obscene budget that could have made a giant stride in the cure for cancer, there isn't much originality, and the whole endeavor appears to be the work of grown men who never outgrew puberty.
The first hour is exposition. You know the drill. The doomed planet Krypton has depleted its natural resources and is in danger of being taken over in a military coup by the evil General Zod (Michael Shannon, trying to look sinister with a furrowed brow). Before he is tried and sentenced to death by the degenerate Zod, the wise and beloved political leader Jor-El (Russell Crowe) ships his baby son Kal-El to the planet Earth, where he lands in Smallville, Kansas, on the farm of surrogate parents Jonathan and Martha Kent (Kevin Costner and Diane Lane), who name him Clark. They know he's got superhuman powers but fear for his safety if the bad guys find out. "You have to keep this part of you a secret," warns Costner. "You're the answer to 'Are we alone in the universe?'"
This is tough advice when you're targeted by bullies at your job washing dishes at the local IHOP. But you can't keep a virile comic book hero down for long. Clark saves a school bus full of drowning children by lifting it off of a river bottom with his bare hands—a miracle that raises the suspicions of intrepid journalist Lois Lane while she's on assignment in Canada to inspect an object trapped in ice for 18,000 years, which may or may not be the spaceship that houses the remains of the demented Zod. No longer depicted as a ditzy girl reporter who is always being saved by Superman, Lois is now a Pulitzer Prize-winning journalist, played by Amy Adams in the first mediocre and clueless performance of her career. The fun of never knowing who Superman really is has been squelched. Lois knows his identity from the start. Clark Kent is no longer a mild-mannered fellow reporter at the Daily Planet who ducks into conveniently located phone booths to change into bright blue tights in time to save the endangered citizens of Metropolis. Two-fisted editor Perry White is now Laurence Fishburne, and you can forget about photographer Jimmy Olsen altogether.
The indefatigable Zod arrives looking for Kal-El. "Surrender in 24 hours or watch this world suffer the consequences!" he bellows. It's disheartening to watch a serious actor like Michael Shannon pretend he knows what he's saying. Kevin Costner gets sucked into a Kansas tornado right out of The Wizard of Oz. Diane Lane's wrinkles and liver spots are right out of the MGM makeup department files on Greer Garson in Madame Curie. The ghost of Clark Kent's father Jor-El constantly reappears to offer counsel, but Russell Crowe is no Marlon Brando, who played the part in the 1978 version, although he acts like he thinks he is. The secret to survival is inside the vessel in which Kal-El arrived, now hidden in the storm cellar in Diane Lane's farmhouse. From here, the movie goes haywire, falling into preposterous plot twists as Lois flies through space in a jet-propelled pea pod, crashing into a cornfield. For the final hour of seemingly interminable drivel, Kansas is overrun with alien combat forces that blow up Sears.
You pass the time pondering weightier questions like, "Will this thing break summer box-office records for kids on vacation who will sit through anything as long as the projectors keep running?" and "Does Henry Cavill have legs, or will he go the way of fellow hunk Taylor Kitsch, star of the ill-fated bomb John Carter?" Meanwhile you learn vital things, like what the "S" on the Superman costume stands for. Redundant, unnecessary and a colossal waste of talent and money, you can pretty much sum up Man of Steel in the scene in which a lady police officer watches with her mouth wide open as Superman tosses aside tanks like Tinker Toys. "What are you smiling about, captain?" asks another cop. "Nothing, sir—I just think he's hot."
rreed@observer.com
MAN OF STEEL
Written by David S. Goyer and Christopher Nolan
Directed by Zack Snyder
Starring Henry Cavill, Amy Adams and Michael Shannon
Running time: 143 mins.
2/4 stars