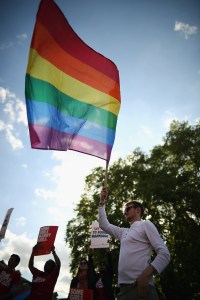 In a major victory for gay rights, the United States Supreme Court struck down the Defense of Marriage Act this morning, ruling the 1996 law unconstitutional. Same-sex married couples are now entitled to the same federal status as other married couples, such as in regard to income taxes and Social Security.
The case, United States v. Windsor, is based on a New York woman, Eddie Windsor, who married her spouse, Thea Clara Spyer in Canada. Upon Ms. Spyer's death in 2009, Ms. Windsor inherited her estate and was taxed as if they were unmarried. In their decision today, the Supreme Court ruled that DOMA created a separate and unequal class of citizens in cases such as this.
"DOMA seeks to injure the very class New York seeks to protect," the pointed 5-4 decision declared. "By doing so it violates basic due process and equal protection principles applicable to the Federal Government."
Already, New York officials and other advocates have been celebrating the decision and Ms. Windsor is scheduled to attend a 12 p.m. rally later today. The Empire State, of course, legalized same-sex marriages in 2011.
Senator Kirsten Gillibrand was among the first to send out an exuberant statement.
"Today is a historic day for our country on its long march towards upholding the fundamental values this country was founded upon of fairness, equality and justice," she said. "I am overjoyed the Supreme Court has ruled to end the discrimination that had been enshrined into U.S. law … Every loving, committed couple deserves the basic human right to get married, start a family, and be treated equally under the law."
Ms. Gillibrand added, "No politician from this day forward should try to stand in the way of this fact."
Read the full decision below:
[scribd id=150139047 key=key-17qm0bv2g3evu6bxfw4z mode=scroll]