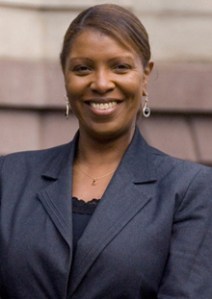 In a showing that left many political insiders scratching their heads, popular City Councilwoman Letitia James and newcomer Catherine Guerriero are neck-and-neck in the race for public advocate, according to the first formal poll of the the one competitive citywide race besides mayor.
According to the Wall Street Journal/NBC New York/Marist survey released last night, Ms. James, a Brooklyn councilwoman, is leading with 17 percent of the Democratic vote, statistically tied with Ms. Guerriero, a professor, with 16 percent.
Trailing behind, the poll said, are the arguably more established State Senator Daniel Squadron, who earned 8 percent of the poll's vote, and former Deputy Public Advocate Reshma Saujani, the founder of Girls Who Code, with just 4 percent.
Nonetheless, the poll showed the race is extremely fluid, with 54 percent of Democrats saying they remained undecided, according to the Journal's report.
Mr. Squadron is currently leading the contest's money race, with more than $900,000 cash-on-hand, followed by Ms. Saujani with $635,000, according to recent city campaign finance records. While Ms. James has long been a favorite among unions, her sluggish fund-raising (she has less than $266,000 in the bank) has led some to question her viability in the race. Ms. Guerriero's campaign, meanwhile, is $15,762 in the red.
Some observers suggested that part of Ms. Guerriero's strong showing could be that some respondents thought she was Hispanic, because of her surname. In the survey, Ms. Guerriero received 32 percent of the Latino vote while polling around 10 percent among other groups.
The unexpected results nonetheless had Ms. Guerriero's camp cheering.
"I'm gratified, but I'm really not surprised," she said in an e-mail message to supporters this morning. "It would be disingenuous to tell you otherwise. The paradigm has shifted that you can actually run as a real grassroots campaign with the money of a working class candidate and grind it out against candidates who really weren't paying any attention."
Her spokesman added, "Cathy's been working hard on her campaign for 13 months, attending hundreds of meetings in every neighborhood in NYC with concerned citizens, civic leaders, small business owners, labor leadership and rank-and-file, and clergy and other faith-based leaders …. She is the hardest-working candidate out there and it shows."
But Ms. Saujani's campaign manager, Michael Blake, played down the the results.
"The poll makes it clear that the Public Advocate's race is wide open. Even the two career politicians with the highest name recognition only scraped together 25% of the respondents combined," he said in a statement. "A majority of voters are still undecided, and we know Reshma will persuade many of these voters to support her in the coming weeks."
Ms. James's spokesman was also measured, adding: "Leading in polls is nice but we all know the only poll that truly matters is the one on Election Day. Tish will continue to talk about her passionate fight on behalf of New York's working families and why she'll make a great Public Advocate who stands up for working-class and middle-class New Yorkers in every corner of the City."
Updated at 11:13 a.m.