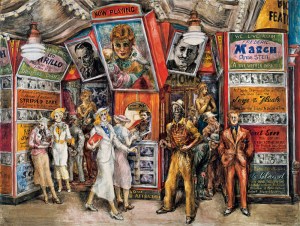 Like any sensible New Yorker, the mid-century American painter Reginald Marsh spent his summers at the beach. Three or four times a week in the 1930s, he would head to Coney Island, though he preferred work over leisure, setting up an easel and painting, often in a suit. The startling pictures he made there teem with flesh. Robust bodies writhe against one another, nearly obscuring the sand and water. Men wrestle each other and lift women aloft, women stretch and pose. Everyone's letting it all hang out. A handful of these zesty scenes are on view in "Swing Time," an illuminating show organized by the Whitney Museum's Barbara Haskell and independent curator Sasha Nicholas that charts Marsh's fascination with Depression-era New York's raucous crowds, wild parties and seedy underbelly. It's worth a visit.
In her catalog essay, Ms. Haskell positions Marsh as the opposite of Edward Hopper, whose drawings are the subject of a smart show that, as it happens, is directly across Central Park, at the Whitney. In place of Hopper's existentially lonely characters, who turn inward in response to the city's tumult, Marsh offers scenes of people acting out with unbridled gusto. He charts sociability as it tilts toward debauchery, as on the mixed-race dance floor of The Savoy, where everyone's dancing the Lindy Hop. If he were alive today, he'd be out at Brooklyn raves watching artists take molly.
Instead of Hopper's woman alone in a movie theater, Marsh gives us a tableau of people on the sidewalk out front in Twenty Cent Movie (1936). Natty, tough-looking men and elegant women vamp for the viewer, posing in front of boards that shout racy titles like Stripped Bare and Joy of the Flesh. Using egg tempera, his preferred medium in the '30s, Marsh painted in electric colors, with the same quick, calligraphic brushstrokes that he used as an illustrator for the Daily News and The New Yorker.
Unfortunately, his illustrational chops sometimes outrun his eye for nuance and his scenes end up generic and rote. The vaudeville dancers at a 42nd Street theater are indistinguishable and weirdly lifeless, as if they don't know what they're doing there. The same goes for some of his hastily sketched theatergoers, who are less intriguingly disaffected than merely tossed-off.
Regardless of their uneven emotional content (or lack thereof), his paintings are, indisputably, vital historical documents of their era. He captured not only New York's lost milieus—the now-vanished gritty Bowery, which resembles Bourbon Street with its cacophony of signs—but also its uncomfortably persistent scenes, like a homeless-looking black man slumped over on the subway, a tawdry tabloid headline on the train floor below him. The show presents a potent feeling for a fast-changing era—and not just on the part of Marsh. There are paintings by his contemporaries, like Walt Kuhn, Isaac and Raphael Soyer, and Paul Cadmus (a truly unhinged scene of three women manhandling as many weary sailors). There are also photographs, by Berenice Abbott and Weegee, and rare ones by Marsh himself.
At his best, Marsh delivered real, if flickering, psychological intensity, as in Ten Cents a Dance (1933), in which lascivious women call out for a spin on the floor. He also got at the uncanny, alluring surreality of modern urban life in the 1934 painting A Paramount Picture, with an exhausted but resilient working woman looking out from beneath a poster of a glamorous movie-star Cleopatra who looks eerily similar to her.
You get the impression that Marsh had a complicated relationship with women, as he did with most of his subjects. Born to well-to-do artists, he once said, "Well-bred people are no fun to paint." He preferred the "honest vulgarity" of vaudeville. His studio overlooked Union Square, and he watched the crowds below through binoculars. He judged them ugly. Simultaneously attracted and repulsed, he's often at an awkward distance in his work, attempting to channel the rapturous energy of the crowd but more than content not to be caught up in it.
By the end of World War II, the culture that proved so fertile for Marsh was waning. Burlesque was pushed from Times Square; the elevated train that had provided action-packed scenes at rush hour was torn down. "Everything I've loved is disappearing," he cried, repeating the lament of any New Yorker who has lived here for more than a few years. In 1934, he had painted the marvelous East 10th Street Jungle, a bombed-out lot with hardscrabble men warming themselves by fires amid the ruins. In just a few years, that street would be home to a burgeoning set of artist-run galleries, New York undergoing the latest of its quicksilver changes. In our own deeply uncertain moment, Marsh's paintings, and "Swing Time" as a whole, provide the heartening assurance that the city is always in the process of becoming something else. The best response to that change, I'd argue, is one that Marsh couldn't fully muster in his art: to revel in it, to savor it. (Through Sept. 1, 2013) —Andrew Russeth