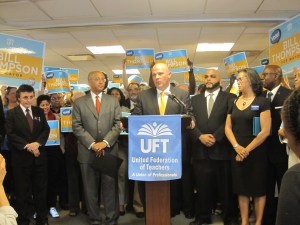 Former Comptroller Bill Thompson's mayoral campaign got its most significant boost to date this evening with an endorsement from the city's powerful teachers' union.
The endorsement, which was officially announced just before 6 p.m. following a vote by the union's 3,400-member Delegate Assembly, will provide Mr. Thompson with the organizational muscle of the United Federation of Teachers, which boasts a sophisticated voter outreach operation, approximately 170,000 members across the five boroughs and millions of dollars to spend.
"We're confident we got the right guy with the right team with the right people and we're going to make a difference for the City of New York," said the UFT's president, Michael Mulgrew, as he made the announcement official at the union's Lower Manhattan headquarters, surrounded by dozens of enthusiastic members cheering and holding quickly-made "Bill Thompson for Mayor" signs.
Mr. Mulgrew has spent recent months touting the UFT's beefed-up political muscle, making the case that its members have the influence to crown the city's next mayor.
"We're not about picking a mayor," Mr. Mulgrew recently told Politicker of the union's impact on the race. "We're about making a mayor, making the winner. And that's what we're gonna do." He echoed the sentiment Wednesday: "This is the right guy. He's the next mayor and we're gonna make it happen."
In accepting the endorsement, Mr. Thompson vowed to turn the page on Mayor Michael Bloomberg, who has repeatedly clashed with the teacher's union, creating what both sides have acknowledged is the most hostile relationship in decades.
"When I'm mayor, I'm going to fight day and night to help the teachers of New York," said a fired-up Mr. Thompson, whose mother had spent her career as a teacher in city public schools and who had previously served as president of the disbanded Board of Education. "Let me make it real clear. As mayor, I'm not going to demonize teachers. We've had enough of that. I'm gonna help them teach by giving them the resources they need and bringing them back into the decision-making process of how we run our schools."
He also vowed to better involve parents in the conversation. "I'm not going to shut parents out. I'm going to give parents a voice," he said, pledging to make New York "the education city."
Earlier this week, Mr. Bloomberg pointed to the union's checkered endorsement record, describing the UFT's nod as a "Kiss of Death." But Mr. Thompson, whom the UFT declined to endorse in 2009, laughed off the criticism. "If I received a kiss from the UFT today, I'm feeling pretty warm and fuzzy," he said to cheers.
Mr. Mulgrew was also asked what had changed since then. "That was a different time and this union now is in a much different place," he said.
Insiders had expected the race to come down to Mr. Thompson and Public Advocate Bill de Blasio, both of whom had carefully touted the union's positions on issues ranging from charter schools to less focus on testing. But Mr. Thompson–seen as the favorite after endorsements from several figures closely associated with the union, including Mr. Mulgrew's predecessor, Randi Weingarten–ultimately prevailed in what Mr. Mulgrew said was a near-unanimous vote.
"For us the process was about making sure that we felt we picked a candidate who, number one, was the best candidate, had a vision for the future, [but also] had a path that, working with others, would get them to victory," Mr. Mulgrew said when asked what had made the difference. "We are very, very confident and we are all in to win it. And it is that simple."
A labor source familiar with the union's thinking made the case against Mr. de Blasio more bluntly.
"He has no base. He's got a little of this, and a little of that, a little of this. He has a path to victory, but it's one of those things where you can't miss a single thing. And so that was a big part of it," the source said of the union's ultimate decision. City Council Speaker Christine Quinn, meanwhile, was considered a tough sell to members deeply frustrated over Mr. Bloomberg's legacy, while City Comptroller John Liu–arguably the union's fiercest ally–has been badly tarnished by a federal investigation into his fundraising.