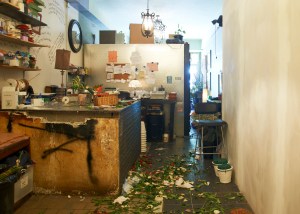 Depending on who you ask, the Lower East Side is an incubator for cutting-edge art, or is on its way to becoming a Chelsea-esque art mall. Some old-timers—those whose galleries opened before 2008—will complain that the art scene, along with everything else down there, is swiftly gentrifying. Still, most will agree that it's a more hospitable environment for avant-garde art than Chelsea. This month, a new space opens on the LES that harks back to its scrappier days. Part cooperative, part Kunsthalle, the artist-run Essex Flowers may just suggest a way forward in an art world increasingly dominated by mega-galleries.
The 400-square-foot space, set to open on June 28, will be located in the basement of an eponymous flower shop at 365 Grand Street, near the corner of Essex Street and Grand, in the heart of what might be called the LES gallery district. The gallery will be open seven days a week during the shop's business hours, with no gallery assistants per se, save the employees of the shop.
Its programming will be handled by nine up-and-coming artists, all around age 30: Phillip Birch, Patrick Brennan, Amanda Friedman, Heather Guertin, Van Hanos, Jeffrey Tranchell, Lizzie Wright, Denise Kupferschmidt and Joshua Smith (a monochrome painter who shares his name with a different artist who shows at Luhring Augustine). The artists will each be responsible for one four-to-six week show over the next year (not necessarily of their own work).
Until 2010, Mr. Smith and Ms. Kupferschmidt staged the two-year roving Apartment Show series, which put on, among other exhibitions, a fake retrospective of James Cameron at MoMA PS1. Essex Flowers is expected to have a similarly experimental program.
Some of the artists involved would prefer that the art space wasn't called a gallery. Ms. Kupferschmidt said she doesn't even see it as a reaction to the gallery model.
"I'm represented by Halsey McKay on Long Island, and that's important to me," Ms. Kupferschmidt said, "not only because I know and love those guys, but because they have me thinking about my work in different ways. In no way am I saying an artist shouldn't be filtered by a gallery, but I like seeing the work in this unfiltered way. I love having the opportunity to see an artist lay down exactly what they wanted to do."
The nine artists have collectively shown at a number of galleries known for their taste in up-and-coming artists, among them West Street, Daniel Reich, 47 Canal, Marianne Boesky, Cleopatra's, Mitchell-Innes & Nash, Sculpture Center, Nicole Klagsbrun and Bortolami Gallery. Most of them, however, have some kind of a day job, and for the past month they've worked nights and weekends to renovate the basement space with Sheetrock (47 Canal and Rachel Uffner loaned them ladders).
"People just take brick and mortar more seriously," Mr. Smith said of why he wanted to move past pop-up projects like Apartment Show. The gallery will most likely sell the art, but those considerations have yet to be worked out and are by no means the first priority. The inaugural show will be a group show of the artist-curators' own work to introduce them to the public. "My sculpture is really weird," Ms. Kupferschmidt said of her contribution.
Essex Flowers' raison d'etre is the ability to show works that wouldn't necessarily be seen elsewhere. Mr. Smith pointed to Alfred Steiglitz's 291 gallery at Edward Steichen's former studio at 291 Fifth Avenue—the first place in the United States to show Auguste Rodin, Henri Matisse, Paul Cézanne and Pablo Picasso—as a spiritual precursor.
"I'm not saying we're Picasso," he said, "but it's really inspiring to know that there's a long history of artists self-organizing in eccentric ways."
The new gallery comes at a time when galleries below the blue-chip level are struggling for definition, or at least have been the topic of much discussion in an art business that seems to favor art fairs and shows tailored to an international audience.
Two weeks ago, mid-tier New York gallerists Edward Winkleman and Elizabeth Dee gave a talk at the Art Basel fair called "The Place of Mid-Level Galleries in the Age of the Mega-Gallery." During the talk, Ms. Dee said the art world's emphasis on fairs and booming prices has created an impossible situation for galleries that have "introduced or discovered and developed artists who would not be known to the public otherwise," because as those artists become popular, they leave to pursue more lucrative arrangements with bigger galleries. New York and London-based David Zwirner (son of Cologne Art Fair co-founder Rudolf Zwirner) even weighed in on the topic in a recent interview in Spear's magazine, saying, "That's a little bit on the local communities to support them. When I was a mid-size gallery and a small gallery, I really got my support from New York."
The answer for smaller spaces may be to go weirder, and more local. Mr. Hanos, like many of the other artists involved, said building a community at Essex Flowers is one of his first goals for the space.
"I want to help foster an environment where participants are free to take chances, extending to all parts of artistic practices," he wrote in an email. "I see it all as an unfolding conversation, between the backyard and the space we've built. We are all participants, authors and facilitators, blurry lines I'm interested in finding. I want this to be inclusive, I see all that happening organically. I'm so happy its such a comfortable place to hang out, and envision a lot coming from that simple fact."
Central to the project is Bill Frazer, the 54-year-old owner of the shop that led to Essex Flowers' 291-esque name, who offered the artists the space earlier in the year for no rent, with the only real condition that they make sure his two cats are in the shop when they lock up at night.
Over cigarettes in the 500-square-foot back garden, where the artists also intend to program, Mr. Frazer said he'd always wanted to have a gallery in the space, and in fact had an art gallery provision written into his agreement with the co-op that owns the shop when he took out his lease three years ago.
"Being in a creative industry, I feel a part of that world," he said. "I can see an empty room and transform it for people for parties, so in that sense it's very similar."
He got his first job in a flower shop in his native Marine Park when he was just 8 years old, and he handled his first wedding at age 12. Though he's been in the neighborhood since 1996, he rises at 4:30 a.m. and doesn't have much time for openings. Most of his business comes from corporate and hotel accounts, with very little walk-in business. "I could work out of that shed over there," he said, gesturing to a small red structure in the garden.
He has interviewed a number of artists and curators over the past three years who might have programmed the space, though none seemed to fit.
"I just felt everyone was looking to take advantage," he said. "I didn't get a good vibe from them." He met Mr. Smith through Mike Jarmuz, who manages a wine bar that Mr. Frazer owns around the corner, and quickly took a liking to the group of artists who came to be the shop's curators. "You can tell they're all honest," he said.
And they've already shown an impressive dedication to democracy in organizing the space. The nine artists have split the renovation work evenly, with those who have worked more in art-handling falling into the role of foremen. ("I gesso my supports with a Venetian plaster technique," Mr. Hanos wrote. "It's also great for mudding walls."). Those who know web design have spearheaded the website, though each decision about what to do with the space is preceded by significant discussion among the artists.
"I personally have spent a lot of time with Occupy [Wall Street] and other working groups," Mr. Birch said, "so one of my goals has been to develop a true horizontal working structure for us."
"Our meetings will sometimes go for five or six hours, and it's not unusual for me to very quickly get 100 emails a day from just the group," Ms. Wright said. She used to stage her own shows out of a storefront space in Williamsburg that doubled as her apartment (she'd place all her belongings in the shower and her car outside when she had an exhibition up) and said the collaborative curatorial experience has already been valuable for her, and for her sculpture.
"An original idea never sticks," she said. "It's always changing. With the way we've done things, you learn so much about the way another artist thinks. If you don't bring that into your own practice, it doesn't grow in that direction."
The gallery's horizontal structure is out of necessity as much as it is a political statement, since each artist in this diverse group wants different things from the space. Mr. Birch, for example, makes sculptures and videos but also writes plays and has seen little development ways to show performance art in recent years.
"I've seen a lot of gallery-based structures where performance-based art is used as a second tier, or it's used to buoy concrete objects," he said. "I'm looking for a way to pull that apart a little bit more, so that performative things can stand on their own. It seems to me that the only institutional support for something like that right now would be for someone like Marina Abramović."
He added: "If you're not on the superstar level, it's hard to fit autonomously in that world." The same might be said of the art world at large.