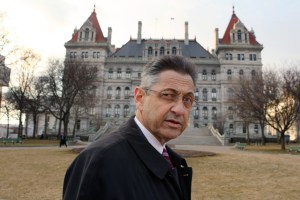 At a Democratic club meeting in Queens last night, Councilman Danny Dromm said progressives should "thank God" for embattled Assembly Speaker Sheldon Speaker, not revile him.
"Thank God for Shelly Silver," Mr. Dromm said to his group, the New Visions Democratic Club in Jackson Heights, when the discussion shifted to Albany politics. "A lot of conservative stuff that might have happened didn't happen. I don't know what his prospects are for the Assembly, but we'll see."
Mr. Silver has faced a barrage of criticism for his handling of sexual harassment allegations against ex-Assemblyman Vito Lopez. While Mr. Silver has since apologized for quietly settling several cases against Mr. Lopez with $100,000 in public money instead of flagging them for investigation, many editorial boards and two Democratic Assembly members have called for him to step down as reports continue to swirl that Mr. Silver, who has held his post since 1994, may be facing growing backlash from his typically loyal members.
Mr. Dromm, however, reiterated to Politicker that he believes Mr. Silver's presence is crucial in Albany.
"Shelly has held the line on a lot of progressive issues and I'm appreciative of that," he explained. "I don't want to see a lot of things that have been passed or proposed by the Republican Senate be put into law."
Mr. Dromm cited legislation passed last week by the State Senate–controlled by Republicans and a breakaway Democratic faction–that would make "harassing" a police officer a felony punishable up to four years in prison as an example of a bill that Mr. Silver's Assembly would halt in its tracks. For that, Mr. Dromm said he was grateful.
"I think Shelly does have the support of his members and we'll see how this weathers out," he added.