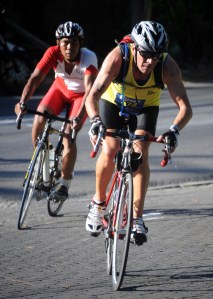 Rejoice and be glad, lazies: science is pretty much retracting past claims that all adults should be working out for a whopping 30 minutes a day.
At a recent meeting of the American College of Sports Medicine, "one of the hottest topics was not how much exercise Americans should be completing, but how little," the New York Times reports. From the Times:
"Dozens of presentations and seminars examining a variety of activities concluded, essentially, that a few minutes of any strenuous exercise is sufficient to improve various measures of health and fitness."
Conventional science knowledge previously held that 150 minutes of moderate exercise per week led to longer life span, reduced risk of heart disease and diabetes, blah blah blah. Nice perks, but who's got the time?
Now, those in the know are instead recommending high-intensity impact training, also known as HIIT. If that looks familiar, it's probably because you know a few CrossFitters who insist on posting #HIITs, #WODs and #paleo meals on Twitter and Instagram nonstop to make you feel bad.
The doctors recommend people work out in short, intense bursts, for about 15 minutes a day. While it's generally good for health and fitness, the one thing that's not clear, the Times reports, is whether this type of exercise will aid in weight maintenance or building muscle. While you guys figure that out, we'll just be here on the couch marathoning "Pretty Wild."