About 30 years ago, the actor Roger Bart noticed something beneath the complex demeanor of James Gandolfini, a young bartender fresh out of college: the embryo of an actor.
"I looked at him, and I talked to him, and I thought, 'He's such a great type,'" said Mr. Bart, who had recently earned a degree in acting from the Mason Gross School of the Arts when he met Mr. Gandolfini through a mutual acquaintance in or around 1985.
"He was this interesting, deep, funny, sweet and gentle giant," Mr. Bart recalled. "Even when I met him, at 23, he was sort of 23 going on 45."
Mr. Bart was so intrigued by Mr. Gandolfini's mysterious aura that, with a bit of nudging, he persuaded the actor—who died of a heart attack in Rome last week—to embark on a two-year program to learn the Meisner technique, an improvisational acting method that Mr. Bart had studied in college.
Mr. Bart had never recommended the program to anyone else, but he had faith in Mr. Gandolfini's abilities. "It's about being honest and real and in your own skin," Mr. Bart said of the technique, "and I felt like Jim knew himself already."
That mix of explosive vulnerability became Mr. Gandolfini's trademark, most notably in his role as mob boss Tony Soprano in the eponymously titled HBO series, for which he won three Emmy Awards.
The program wasn't easy. In an early class, Mr. Gandolfini was shaking so nervously, he recalled on Inside the Actors Studio, that he couldn't even pretend to thread a needle. During another exercise, he exploded in a fit of anger, destroying everything on stage (reminiscent of a Sopranos scene in which Tony Soprano's nephew, Christopher Moltisanti, is so carried away during an acting class that he punches a fellow improviser). Despite the destruction, his instructor, Kathryn Gately, with whom Mr. Bart had also studied, liked what she saw, and she encouraged Mr. Gandolfini to channel his volcanic temperament to suit his acting needs.
"All you had to do was scratch the surface and there was so much beneath," Mr. Bart remembered. "A combination of rage and joy and sweetness."
In retrospect, Mr. Bart's intuition seems like an inevitable marker in Mr. Gandolfini's illustrious but truncated career. Yet without Mr. Bart's encouragement, Mr. Gandolfini would probably never have given much thought to acting in the first place.
"I wouldn't say he ever expressed great displeasure for where he was at 23," Mr. Bart noted. "Everyone's grappling at that age with the parts they're going to play when they're young," he added, "but when I met Jim, he was already such a great character that I thought he would have a more porous entry into the business."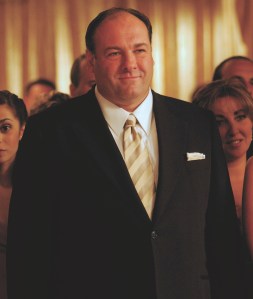 Mr. Bart's hunch turned out to be right, as we now know. But Mr. Gandolfini had to pay his dues, working for years in bartending and construction before he landed roles in a 1992 revival of A Streetcar Named Desire alongside Jessica Lange and Alec Baldwin, and, the same year, in the Sidney Lumet picture A Stranger Among Us.
"I'm so glad I didn't talk him into going to beauty school," Mr. Bart joked, "because I doubt it would have lasted."
Mr. Bart and Mr. Gandolfini rarely saw each other over the couple of decades following their first few encounters. They both had their careers to tend to, and their spheres rarely overlapped. Mr. Bart, who has played Carmen Ghia in The Producers, among other notable roles on stage, screen and television, had always hoped to find himself acting alongside Mr. Gandolfini. But it never happened.
"What I'll miss most is his presence in entertainment," Mr. Bart noted, "because it was clearly growing, and he was continuing to get better. I'm just sad about what won't happen now that he's gone."
The last time the two actors saw each other was a couple of years ago, backstage at the Broadway play God of Carnage, in which Mr. Gandolfini was starring at the time.
Mr. Bart had stopped by to say hello and to congratulate him on the new role. Even though he had come so far and accomplished so much, Mr. Gandolfini was quick to remember his debt to an old friend.
"You're to blame for all of this," he told Mr. Bart.