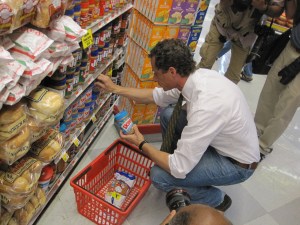 On Wednesday, Anthony Weiner became the latest official to embark on the "Food Stamp Challenge," where privileged politicians live on just $31.08 a week–or $1.48 per meal–to raise awareness of the hardships faced by those living in poverty.
"In New York City, there's an enormous amount of need right under our nose," said Mr. Weiner, who intends to participate for a week, and said he started the day with nothing but a cup of tea for breakfast–which he'd dunked repeatedly to try to capture maximum caffeine.
That might explain why Mr. Weiner–usually brimming with confidence and at no loss for words–seemed strangely unprepared, requesting a press release from his spokeswoman and reading directly from the page until he found his groove in the midst of the pricey green market in Union Square, surrounded by $6 pints of strawberries, $8 rhubarb pies and artisanal cheeses that likely wouldn't last him through the day.
So instead, after vowing to make food stamps more accessible if he becomes mayor, Mr. Weiner led a gaggle of reporters and photographers on a trip to the Morton Williams supermarket around the corner from his ritzy Park Avenue apartment, stopping to chat with fans and detractors as he made his way to the store.
There, he labored confusedly through the aisles, scouring for price tags that wouldn't break the bank.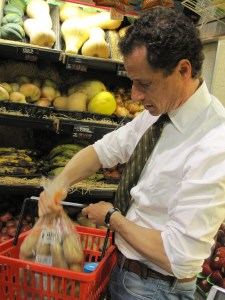 His first stop was the bread aisle, where Mr. Weiner, who was forced to resign from Congress two years ago in the wake of a sexting scandal, decided to pick up a loaf of Bimbo's soft white bread for $1.69.
But Mr. Weiner quickly discovered that his press corps has strong opinions about grocery shopping–with reporters and photographers chiming in with brand and recipe advice as he crouched to peruse his peanut butter options.
"Don't go for the Skippy, man. Skippy's a high-priced brand," advised a New York Magazine reporter in the group. "Store brand, no store brand!" he urged disapprovingly as Mr. Weiner pulled out a jar.
"$2.99, brother! It's on sale!" shot back Mr. Weiner, victorious displaying a jar marked down from $4.99.
Next it was time for the some protein. "Egg noodles, not pasta," advised one reporter. Another asserted the tofu was too expensive for Mr. Weiner's budget.
"Sir, a gallon of milk, small yogurt. Make your own yogurt and you have enough yogurt," advised one freelance photographer. Politicker also chimed in, advising a befuddled-looking Mr. Weiner in the rice aisle that the uncooked variety was generally cheaper than the five-minute kind.
The advice continued as Mr. Weiner perused shelves of beans, peas and legumes.
"Don't go for the Goya!" said the New York Magazine reporter. Canned beans are also expensive, added a reporter from Capital New York.
"Is this event over yet?" asked Mr. Weiner, as the group collectively weighed in on the merits of various beans.
"I need less input!" Mr. Weiner urged the peanut gallery. "Shoo, fly!"
At the end of the lengthy shopping session, Mr. Weiner walked away with a paltry basket filled with the bread and peanut butter as well as potatoes ($2.49 for a 5-pound bag), a dozen extra-large eggs ($2.59) and three packs of "Chicken of the Sea" chunky white tuna, on sale for $1 each. The grand total: $12.79.
"Well, when you put it in the context of my week's budget, yeah [it's expensive]," he marveled.
Mr. Weiner, who recently traded his old Forest Hills home for a fancy Park Avenue South apartment, refused to estimate how much he spends on the average meal, or even how much he'd paid for his dinner last night–a "tandoori chicken thing" cooked by his wife, Huma Abedi, which he stressed was "delicious"–making sure reporters got that down.
"I'm not a good example. I eat only periodically," he said.
Would Ms. Abedin be participating in the challenge with him, one reporter asked? "No!" he stated emphatically before turning away.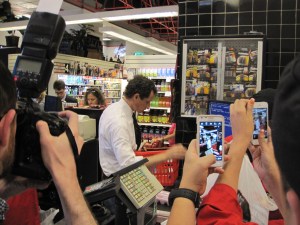 Despite his efforts to show just how difficult it is shop healthily with food stamps, Mr. Weiner said during his press conference the city should be doing everything it can to encourage the 500,000 city residents who qualify for food stamps but don't use them to enroll.
And while he acknowledged the city can't really do much to boost the value of stamps on its own, he said the mayor should be working with the federal government to up the limit–including giving food stamps a 50 percent boost in value when used on fresh produce. (The city already has a similar program in place.)
After Mr. Weiner's shopping trip, the Food Bank For New York City announced that Comptroller John Liu, another mayoral candidate, will also be participating in the challenge, which they issued to all of the mayor contenders to protest proposed cuts to the Supplemental Nutrition Assistance Program (SNAP) program in the new federal Farm bill.
For his part, Mr. Weiner readily admitted the effort was a "stunt."
"Of course," he explained. "You want to call attention to something."