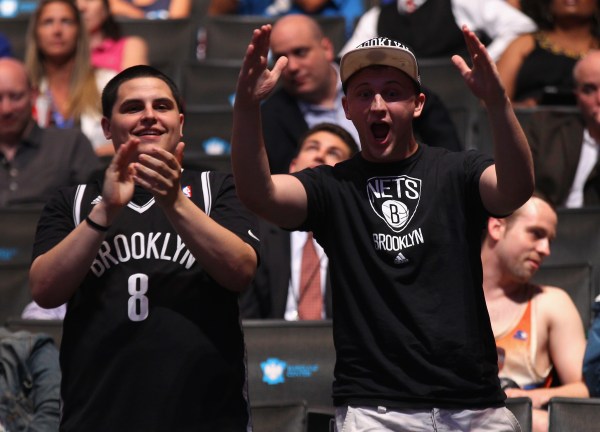 When the Nets moved to Brooklyn last year, I assumed my days as a Knicks fan were numbered. With their fancy new starship arena—which is home to some of the borough's best eateries and is conveniently located near Atlantic Terminal's Target and Guitar Center—the Nets would be like my white knight, whisking me away from the ongoing abusive relationship of rooting for a James Dolan-owned NBA team.
Sure, the Knicks had been turning things around, making a push for relevancy with legit stars like Amar'e Stoudemire and Carmelo Anthony and stud role players like Tyson Chandler and Iman Shumpert—compare that to the Isiah Thomas and Starbury age, and we'd died and gone to hardwood heaven! But even as things were seemingly going well, Mr. Dolan couldn't help but harass his beleaguered fan base.
Half of the 2011-2012 season went literally unseen by locals due to a standoff between the team and a cable provider (not Cablevision, of course, which Mr. Dolan owns), and the situation was only resolved when an unlikely Harvard hero named Jeremy Lin turned the Knicks into must-see TV. It was an undeserved bit of luck for Mr. Dolan, to have stumbled into a global merchandising powerhouse like Lin, and true to form, he immediately squandered it, letting the young point guard escape to Houston in free agency. (Yes, this was likely the right basketball move, but when Knicks fans had just tasted their first excitement in a damn decade, the decision felt like nothing so much as more lye in the eye.)
So needless to say: I was ready for the Nets. I embraced their arrival, presuming a rap legend and Russian oligarch had to be better than a double-chinned billionaire dunce with a backup band. I even bought a headband.
And yet: I could not leave the Knicks.
Lord help me, I tried, attending a few early-season games at Barclays. But it just felt so…wrong. I found the Barclays' rafter seats were vertigo-inducing nosebleeds, knocked several stories further from the court thanks to the luxury boxes that bisect the lower and upper levels. Meanwhile, the lower bowl was lit like a hospital operating table. The whole place felt disinfected, unlived in.
In December, when I made my first trip to the Garden to watch the Knicks take on the Lakers, I had already softened. The arena lighting was warm and golden. The energy seemed organic. Who was I kidding! It felt like home. Just like that, I was back in Mr. Dolan's grasp, and I settled in for the bumpy ride of the rest of the season.
There are lots of reasons a victim of abuse stays in a dysfunctional relationship: insecurity of living alone; fear of making major life changes; guilt over the failure of the relationship. In the worst cases, a delusional victim may even believe that an abusive partner will actually change his behavior, out of remorse. To which James Dolan says: hah!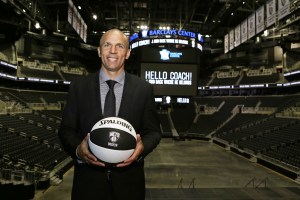 Now there is time to reflect as another off-season is upon us, and the Nets are in the news again. First, Brooklyn signed future Hall-of-Famer Jason Kidd, days after he retired from being a Knick, as head coach, a hugely splashy move. And just yesterday, news broke that the Nets will import three veteran Celtics who Knicks fans will remember most recently from a contentious first-round series. Paul Pierce has long been a Knicks killer. Kevin Garnett is a master trash talker (just ask Melo and his "Honey Nut Cheerios"-tasting wife). And Jason Terry may be the man most responsible for the Knicks eventual ousting from the playoffs (it was his face that absorbed a JR Smith elbow, which resulted in the erratic two-guard's ejection/suspension and subsequent total loss of jump shot).
A Knicks fan could never root for that trio. But that's the point. For all us relapsed Dolanites, perhaps it's finally time to find a support network (or at least a bar in Fort Greene), because with this latest move, the Nets have only reinforced that they're the anti-Knicks—and maybe that's a good thing.