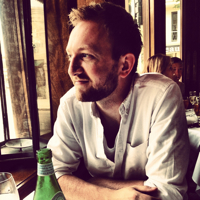 Atlantic Media announced earlier today that Andrew Golis, currently the director of digital media and senior editor for PBS's Frontline documentary series, will join The Atlantic as an "entrepreneur-in-residence" starting July 15th. Mr. Golis confirmed the news on his tumblr.
"Andrew's new role at The Atlantic reflects his tremendous versatility and expertise: he's a digital native, a journalist, an entrepreneur," Atlantic Media publisher M. Scott Havens said in a press release. "I've followed his career for years, and I'm thrilled he'll be joining the industry-leading team at The Atlantic, complementing our efforts to infuse innovation, creativity, and an entrepreneurial spirit into our journalism and our business."
It's not entirely clear what an "entrepreneur-in-residence" is. According to Atlantic Media's press release, Mr. Golis will "support the media brand's expanding video and paid-content initiatives…[and] help identify and launch new ventures and products." So it sounds like he'll help oversee the launches of new editorial and advertising projects. In recent years, Atlantic Media has launched a slew of new editorial properties—The Atlantic Wire, The Atlantic Cities, Quartz—and expanded into sponsored content.
Although Mr. Golis may not be an "entrepreneur" in the traditional sense of the word, he does have experience launching and growing new websites. Before going over to Frontline, he helped launch Yahoo!'s first group of news blogs and worked as deputy publisher of Talking Points Memo, during the time that the politics blog expanded into a full-fledged news organization. The Atlantic, it seems, is hoping he'll bring the growth to their newly launched and yet-to-be-launched websites.
When Mr. Golis took the position at Frontline, he had to move from New York to Boston. His new position at The Atlantic will allow him and his wife, The Nation contributor Jessica Valenti, to move back to New York.
"As a part of this transition, Jessica, Layla and I will be leaving Boston and returning to New York City," Mr. Golis wrote on his Tumblr. "It's been a lovely adventure, but it will be good to be home."