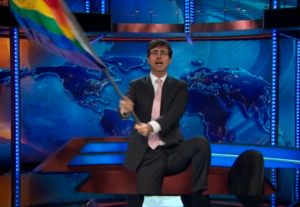 I've long had a theory about why The Colbert Report is funnier than The Daily Show, and it has nothing to do with the conservative persona that the former's host lampoons. It's in the different approaches to comedy by those coming from a stand-up background–like Mr. Stewart–versus comedians coming from a sketch background. Mr. Colbert, a Second City alum, has always been a team player when it came to his Comedy Central spin-off, sitting in on writers' room meetings and actively taking part in the collaborative process of creating his show. Meanwhile, Mr. Stewart ran his program with a "joyless rage," with no writer left confused about who was in charge of the jokes.

In general (in general!), sketch performers are also sketch writers and are trained on the art of participatory comedy–the famous "Yes, And…" model being more open and less egocentric than that of the lone-wolf stand-up, which attracts personalities that are "less cooperative and more suspicious in real life," according to one study published in Psychology Today.
But even Mr. Colbert has taken a backseat this month to the amazing John Oliver, who has taken over as host of The Daily Show while Mr. Stewart is out filming his directorial debut. Though he's been subbing for less than a month (three weeks, to be exact), Mr. Oliver's been able to hold the ratings relatively steady (and even slightly improved, some nights). More importantly, he's a breath of fresh air for Comedy Central's political satire, which, along with The Onion, has become America's favorite way to actually consume the news.
Two summers ago, the media narrative was all about how people were loving Colbert over Stewart, who some felt had become too cynical in his 14 years hosting the program. (Yeah … 14 years. That's bound to make you feel old.) And while Mr. Colbert has remained consistently fresh and funny in his shtick–no small task–his persona as a Bill O'Reilly type can be limiting. Take his response to the DOMA ruling earlier this week:
While Mr. Colbert manages to draw attention to a good point–that a federal ruling saying it's unconstitutional to ban gay marriage does not change the rights held by 38 states not to recognize same-sex partnerships–the takeaway joke of the segment is that "The Constitution is gay." And that's not the fault of Mr. Colbert or his writers; it's just the nature of the character they've created, who, by definition of what its parodying, has to stand in opposition to the Supreme Court's historic ruling.
If Mr. Stewart had been on that night, his takeaway might have looked something like his March segment after the gay marriage gained support in the Senate:
The Daily Show with Jon Stewart has a pro-forma recipe:
1. Take one (1) clip of a politician/pundit stating an opinion
2. Season with an 'Oh really?'
3. Mashup one to five (1-5) older videos of politician/pundit contradicting themselves.
4. Garnish with pop culture references, a sprinkle of the odd "Jewish" voice, a mug to the camera and roll credits.
And then there is John Oliver. Maybe it's just the nature of being the new guy that makes his brand of humor feel so fresh (though he's been with The Daily Show for seven years). Or maybe it's because he's British, approaching American politics through the guise of "I can't believe how ridiculous you guys are," which feels less mean and angry than Mr. Stewart or Bill Maher. And, as he's not under obligation to be falsely angry or actually cynical, Mr. Oliver is the only one of the three Comedy Central hosts allowed to actually wave the gay flag:
Either way, Mr. Oliver's stance as a host thus far has been that of a close relative (your British uncle, perhaps?) making fun of your ridiculous behavior:
See, even when he's legitimately horrified by what you've done, he has enough distance from the situation that he's not going to get angry. He's just kind of baffled.
You know, though, that whatever he says, he's coming at you from a place of genuine love. Mr. Oliver knows your heart is in the right place; you're just a little misguided. You've gotten off track. He wants you to make better life decisions, but he's not above making fun of you when you get high during Thanksgiving.
And honestly, what could be funnier than that?