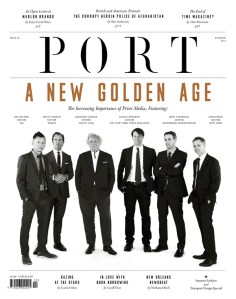 Port magazine, a global quarterly men's magazine based in London, is out with a cover story about the "new golden age of magazine publishing" that we are supposedly entering. But of the seven editors ushering us into this shiny future, all are white men (some may even call them "Dude-itors").
"For our current cover story we thought it would be the right time to champion print, and put the editors we admire on the cover of Port," the magazine explains. "From Vanity Fair's Graydon Carter to The New York Times' Hugo Lindgren, we feature the editors running the best magazines in the world."
The omission of women or people of color not surprisingly did not go over too well on the Internet.  The Tumblr 100 percent men  promptly featured the cover image and there was general and well-earned outrage on Twitter.
But skin pigment and a second x chromosome is not the only diversity lacking in the piece. It seems, that a  disproportionate number of what Port's editor-in-chief, Dan Crowe considers "the best magazines in the world" are published by Condé Nast.
Of the seven editors featured in the piece–Vanity Fair's Graydon Carter, GQ's Jim Nelson, Wired's Scott Dadich, The New Yorker's David Remnick (who, although he doesn't appear in the cover photo, is interviewed in the piece, according to The Guardian), Bloomberg BusinessWeek's Josh Tyrangiel, The New York Times Magazine's Hugo Lindgren,and New York magazine's Adam Moss–the first four are from Condé Nast.
Although the high ratio of Condé Nast editors could be cause for celebration at the media company, we can't imagine that the female editors are too thrilled about getting left out.