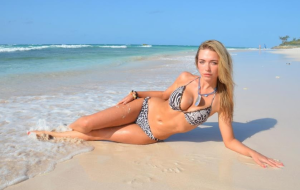 While many of us are still contemplating how (and why) we should add Google+ into our social media strat it looks like the British have it all figured out. They're all following Playboy cover model April Summers, you know, for her social media editing skills.
The 25-year-old gifted actress and "International Playboy Cover and Centerfold Model" has amassed 2.5 million followers in circles earning her another title of most followed British person on the site. According to the research department at XBIZ, she was U.K.'s Playboy Playmate in April 2010 and has appeared in 10 other editions of the magazine.
She rightly snatched the number one spot from DJ Paul Oakenfold, who is still a "thing" over there, apparently. On her Google+ profile, she expressed unbridled excitement:
The time has come. I have finally beaten DJ Paul Oakenfold and now hold the number 1 spot of most popular British person on Google + which also make me 2nd most popular person in Europe !
Party's over, now go back to your regularly scheduled postings of whatever this is.