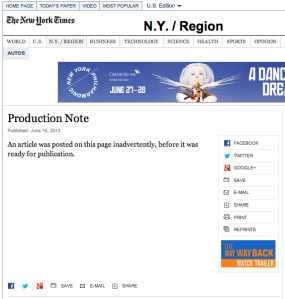 The New York Times finally published a story called "For Women in Weiner Scandal, Indignity Lingers" by Michael Barbaro that was first posted (and then promptly deleted) earlier this month about the women at the center of mayoral hopeful and former congressman Anthony Weiner's sexting scandal.
When the story was posted and then almost immediately pulled on June 11, readers who clicked on the story's URL were confronted with a blank page that read "Production Note: An article was posted on this page inadvertently, before it was ready for publication."
Earlier today, the story was recreated by BuzzFeed's Andrew Kaczynski. Mr. Kaczynski looked at the large portions of the article which remained cached by Google News through a series of more than 100 searches. BuzzFeed's recreation of the article came in at 1,342 words. Mr. Barbaro's story clocked in at 1,345 words.
Whether the Times was inspired to post the original story by the BuzzFeed story remains unclear: the paper of record declined to comment and the current Times story doesn't note the peculiar genesis of the article.
Regardless, there are certainly layers of irony involved here. As Mr. Weiner knows all too well, once something is posted on the internet, it can never be completely removed.