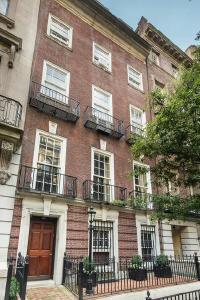 Nearly two decades after George and Antonia Pavia signed a lease on their Upper East Side townhouse with notoriously litigious tenant James Couri, sparking years of legal wrangling and copious quantities of press, the couple's time at 18 East 73rd Street is finally coming to a close: they've signed a contract to sell the neo-Georgian brick townhouse for $19.5 million to an undisclosed buyer, according to Douglas Elliman, who represented the sellers.
The dispute between the Pavias and James Couri began back in 2000, but was immortalized in a nearly 3,500-word New York Times piece six years later, in which Mr. Couri's formidable legal history (he was named as a party in almost 150 cases, they wrote) and bizarre letter-writing style ("Your father was a fascist sympathizer and you were a member of the Mussolini-Fascist youth corps during pre-World War II," he wrote in a 2002 letter to Mr. Pavia) was laid bare.
Mr. Couri accused Mr. Pavia of neglecting to fix a mold problem in his unit and hiding the building's rent stabilized status (and then became incensed when the other tenants in the building declined to join in his legal crusade against their landlord "because they thought their rents were reasonable").
He told the Times that "Pavia has as much a chance of evicting me on a nuisance charge as I do of waking up in the morning as Prince Charles," but while Mr. Couri has not—to our knowledge—transmogrified into the British monarch, he did lose his case after it reached the New York State Supreme Court (not, confusingly enough, the state's highest court—that honor belongs to the Court of Appeals).
"We delivered the house vacant," the Pavias' broker, Corinne Pulitzer, told The Observer. (The other tenants were on month-to-month leases, so a trip to Albany was not necessary.)
The lot, she continued, "is exceptionally deep—almost 107 feet," which allows for a "double backyard patio." The house is "practically 23-feet wide," she continued. "It has some interior features which I don't know if this buyer's going to keep, but it has some beautiful mantles and paneling."
"The façade of the house," Mr. Pulitzer said, "was done by William Lawrence Bottomley," who worked extensively in Virginia, and has to be maintained because the home sits in a landmarked district. "And of course it faces the Pulitzer Mansion" at No. 11, said Ms. Pulitzer, whose ex-husband is a member of the illustrious family.
Thanks to its location—just steps from Central Park—and a willingness to compromise on the part of the sellers—"we bit the bullet early and dropped the asking price from $24 million to $21.5 million," said Ms. Pulitzer—the house sold relatively quickly. "All the other houses that seem to be languishing a bit seem to be east of Madison"—earning them the dreaded "Yorkville" moniker—"but this is clearly a sale of 'location, location, location.' "
The new owners, however, won't risk repeating the Pavias' mistakes. "They're going to gut renovate the entire house and he's going to live there," said Ms. Pulitzer.