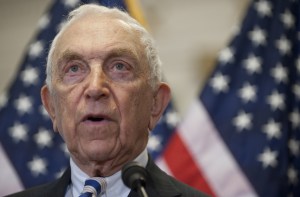 The political world is mourning the loss today of a New Jersey icon, U.S. Sen. Frank Lautenberg (D-NJ), who died at the age of 89.
The fact that it is an election year has the same people eager to know what will happen to the seat that Senator Lautenberg held.
There are competing statues.
According to the state Office of Legislative Services, the federal Constitution and N.J.S.A.19:3-26 allow the Governor of New Jersey to make a temporary appointment to fill the vacancy if it is the result of a cause other than the expiration of the term, in which case the appointee is to serve until a general election is held.
Championed by Democrats, who want the U.S. Senate contest on the same ballot as the gubernatorial contest, the statute gives Gov. Chris Christie the power to appoint a replacement for Senator Lautenberg, who would then run specifically in November to fill the late Senator's unexpired term.
But Republicans are citing 19:27-6, which provides that if the vacancy occurs within 70 days before the next preceding primary election, it too is to be filled by election at the second succeeding election, unless the Governor decides to call a special election to fill the vacancy.
The GOP is citing the statute as a way for Christie to schedule a a special election at a time different from the general election, thereby avoiding the complication of having to run against a ticket that might include, for example, Newark Mayor Cory Booker.
Read more and follow additional developments on PolitickerNJ.com.