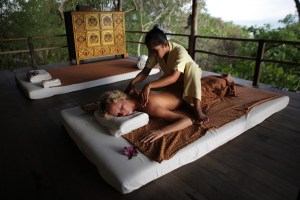 A number of massage parlors opening in Bay Ridge, Brooklyn, are making residents tense.
According to Brooklyn Daily, residents and civic leaders in Bay Ridge and Dyker Heights are complaining that new massage parlors opening up in their neighborhoods are offering more than just back rubs.
Residents have complained that the "spas" have dark windows and operate late at night, and that the clientele is overwhelmingly male–one resident even saw a man zipping his fly as he exited a Dyker Heights parlor. Neighbors claimed that one spa had "scantily-clad girls hanging out in the doorway" outside.
"It's outrageous, how can you need this many spas?" one Bay Ridge resident said. "I never see women going into these places."
A source in the 68th Precinct told Brooklyn Daily that they had received numerous complaints, and were investigating the situation.
Unsurprisingly, the spas have had little interest in speaking to press.
Rubmaps.com, a website that helps users "Find your happy ending!" yielded four search results for massage in Bay Ridge. Each listing includes a rating system for services provided, as well as the appearance of the provider. Categories include Hair Length, Breast Size, Implants, and "Rate Ass." Possible services include… well, anything that falls under the category of "happy ending."
One reviewer wrote of his experience at Bay Ridge's Heavenly Body Work: "I at least got Vivian who was quite good for the service and trust me, I've had worst experiences with other provides [sic]. Somewhat average in looks but can't really complain. Can't really say much for her massage. HE [Happy Ending] was truly only enjoyable part."
We were shocked to discover that clients actually expect a rub-down before the, um, rub-down.