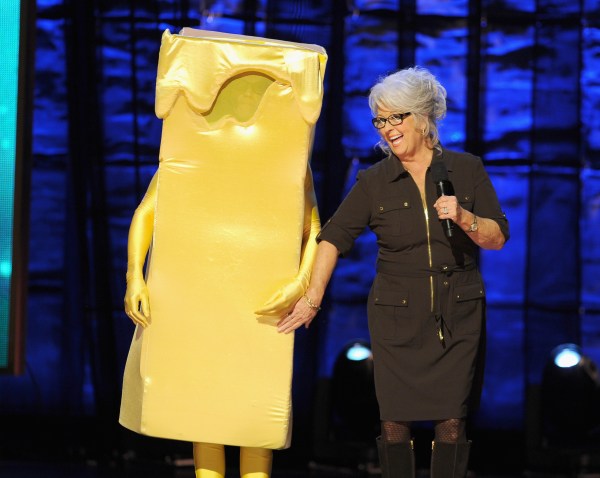 Paula Deen is in the wilderness now. She'll be back, but I can't help but savor the television chef's exile. Her sudden downfall started with the confirmation last week that she had used the word "nigger" and had also considered having a plantation-themed wedding for her brother. Since the deposition (in a civil case against her for discrimination) became public, Ms. Deen has writhed and flailed in a series of awkward mea culpas; pleading exhaustion, she bailed on an interview with Matt Lauer. She has been fired from The Food Network.
Paula Deen is like the deep-fried cilantro of the food world. Either you love her or you hate her. Though I count myself in the latter camp, her demise is still a moment for reflection.
Paula Deen is a bad person who does bad things. She cooks and hawks food that kills people and I still think Ms. Deen's diabetes cash-out is an all-time low of human behavior. Remember, Ms. Deen contracted type 2 diabetes, a disease associated with obesity, which in turn, is associated with many of the eating habits she promulgates through her vast $17 million empire. But she refrained from announcing her illness for two years until she had scored a pharma-shilling deal with Novo Nordisk for the medication Victoza. (No word on whether Novo Nordisk will terminate their agreement. Although, and we'll come to this later, it may be unwise for them to alienate African Americans for tragic but obvious reasons.)
And yet, at least for me, the revelations contained in the deposition that was her undoing are actually pretty weak tea. Yeah, she said the worst racial epithet. (When asked, she answered, "Yes, of course.") Yeah, she told racist jokes. ("I can't determine what offends another person," she said.) Yeah, she considered having a slavery-themed wedding. Those are all horrible things.
On the other hand, to my understanding, her comments were made years ago and, even though I don't buy the argument that "If you're a Southerner over 60, you use the N-word sometimes"—because, by that logic: "Mais, everyone else was deporting Jews," et voila! France is off the hook—I have also seen enough of Ms. Deen interacting with black people, on television, in person, at her restaurant, to believe that she is a casual blithe racist, not a virulent flag-burny one.
Still, she's not off the hook. Not even a little.
It's taken a scandal for The Food Network to drop her, but Ms. Deen's crumminess has been ongoing, overt and obvious. It's literally baked into her buttery deep-fried shtick and evidenced in her witch-like fattening up of those poor woodcutters' children foolish enough to stray into her cabin or sphere of influence.
Now, as obesity is finally recognized as a disease, surely Ms. Deen holds some culpability for leading Americans–both directly at her Savannah restaurants and indirectly through her television shows, cookbooks, cutting boards and myriad creepy innuendo-laden talk show appearances–into that dangerous sickness. And surely one can't help but look at who in America is the fattest. The answer, of course, is non-hispanic blacks, who have an obesity rate of 49.5%. (The national average for non-hispanic whites is 34.3%.)
None of this depends on whether Ms. Deen uses slur words or not. But I feel the argument must be made that, if the criteria of discrimination isn't just intention but consequence—which is to say, de facto discrimination not simply de jure discrimination—Ms. Deen has been racist a long, long time.
The logic—which, for the record, my lawyer mother disagrees with—is as follows: If Paula Deen's actions encourage obesity and if obesity is an epidemic that has a disproportionate effect on African Americans, then Paula Deen's actions have a disproportionate effect on African Americans. Yes, this is reductive. But I'd argue that even if the majority of her clientele are white obese people, as opposed to black ones—as this New York Times photograph suggests—the fact that she has fostered the social acceptance of obesity by making people obese and by celebrating the foods that makes them so, Ms. Deen is nonetheless guilty.
In conclusion, it's not that I think racism is no biggie or that I think Paula Deen shouldn't have been dropped by the Food Network. But dropping her for private acts of overt racism when her career has been made up of public acts of covert racism, seems to be a crying shame, y'all.