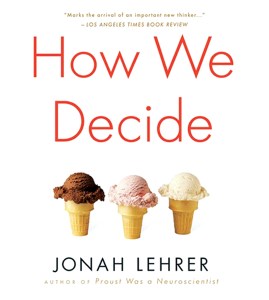 Jonah Lehrer, the New Yorker reporter who was fired after an an investigation revealed that he had plagiarized and fabricated quotes, is making a bid for a second act. And unlike others before him (ahem, James Frey), it doesn't sound like he is calling it fiction.
Just days after Slate reported that Mr. Lehrer was shopping around a new book, The New York Times obtained and reviewed the 65-page proposal entitled "A Book About Love."
"I listen to the message. I have been found out. I puke into a recycling bin. And then I start to cry. Why was I crying?" Mr. Lehrer's proposal reads, according to the Times' Julie Bosman. "I had been caught in a lie, a desperate attempt to conceal my mistakes. And now it was clear that, within 24 hours, my fall would begin. I would lose my job and my reputation. My private shame would become public."
And how better to reclaim one's private shame than by writing about it publicly?
According to Ms. Bosman, the  book will be written in the popular style of Mr. Lehrer's past books, with such pseudo-inspirational lines as "when we are stripped of what we wanted, we see what we will always need." The cover page says that the book will be 80,000 words, and Mr. Lehrer will deliver a manuscript to his publisher in November 2014.
And although it is only a proposal, Ms. Bosman notes that the proposal "liberally quot[es]…from Jane Austen, Philip Larkin, Shakespeare, Erasmus, Darwin and Sartre" and is "heavily footnoted." Footnotes, after all, are one way to avoid plagiarism accusations.
Acquiring the proposal is an obvious coup for the Times.
"I will talk to you if you tell me where you got the proposal," Mr. Lehrer's literary agent Andrew Wylie told Ms. Bosman when she reached out for comment. Of course, the Times—whose reporters have gone to jail to avoid revealing their sources—refused to tell Mr. Wylie where it got the proposal. Not even the Jackal can get the paper of record to reveal their sources.
"Told the Times does not discuss sourcing," Ms. Bosman wrote, "he refused to comment further."