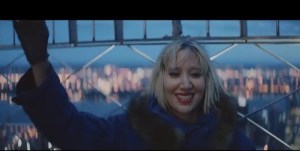 If you need any Dramamine…no, we guess that's for motion-sickness…well, whatever it is you take to get over your crippling fear of vertigo, may we suggest that you start inhaling those suckers by the fistful before watching the latest music video offering of the Yeah Yeah Yeahs, shot on the observation deck of The Empire State Building. It is somewhat inappropriately titled "Despair," and no, there are no Sleepless in Seattle homages at any time during Karen O's up-tempo garage punk anthem.

[youtube http://www.youtube.com/watch?v=Cvrjn_pF9tY&w=560&h=315]
This was the first video to ever be shot on top of the Empire State Building, and you can see why: Even with all the fences and precautions, every time Ms. O. bounces around on the concrete slab separating her from approximately 81 stories of sheer free-fall, we can't help but get distracted. Maybe Despair is a meditation on that fine line between ecstasy and the gaping void that opens beneath us in a precarious fashion anytime our joy seems too out of control.
Or maybe they just thought it was a cool place to shoot.