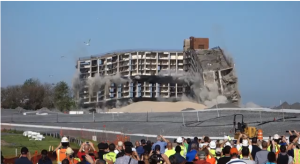 We admit, we really, really didn't want to wake up before 7 a.m. on Sunday to watch Building 877 bite the dust.
But we were counting on you, dear reader, to capture the Governors Island action for us!
So far, we've rounded up only three videos, from three distinct viewpoints, but it's not enough! Where are the close ups? Where's the kaboom?
Building 877, also known as the Cunningham Apartments, was formerly the tallest building on the island at 115 feet and 11 stories high, and has been destroyed to make way for a new 30-acre play lawn.
The project was described as "A major milestone in the transformation of the island" by Ronay Menschel, Chair of The Trust for Governors Island in an interview with Gothamist recently.
For $95 per person, a few hard-core implosion-heads even watched the scene from a classic schooner while eating Sunday brunch.
We're not sure what kind of New Yorkers managed to get themselves on a boat, drinking and watching 200 pounds of dynamite do its damage to an old building at a time when most of us can't even comprehend English (the voyage started at 6:45), but we salute them!
YouTuber MayorBloomberg gave us a stoic, cape-canaveral style viewpoint:
[youtube http://www.youtube.com/watch?v=A3qWP9Icez0]
Whereas Peter Andrews  opted for an epic distance shot:
[youtube http://www.youtube.com/watch?v=7s8qVvhhT18]
But we're partial to this Vine from the FDNY (It's the interplay of light and shadow on the debris):
[protected-iframe id="77ff7b7a50223969ed048cf805f2ef37-35584880-50017992″ info="https://vine.co/v/bLUYlh5xMat/embed/simple" width="600″ height="600″ frameborder="0″]