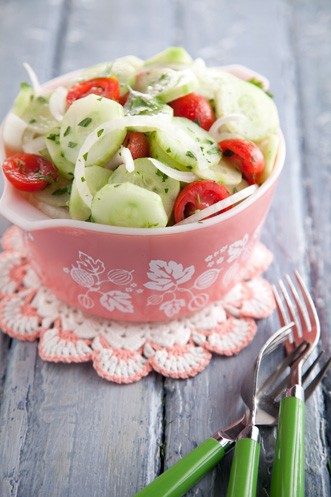 Pinterest is known as the magical place where sorority girls and your friend's mom can amass their fave photos of recipes, wedding dresses and craft ideas on their very own online scrapbooks. With immense satisfaction, they then stare at those color-coordinated material items that just might help them to forget the harsh realities of cul-de-sac life.
But the site doesn't just traffic in shabby chic porn for Tory Burch wannabes. Online retailers have found great success with its largely female, middle-class demographic. Enough repins on the perfect Pinterest image can translate into actual sales.
So it behooves companies to find out exactly what kind of images they should use to peddle their products. Lucky for them, a Philly company called Curalate has been tracking Pinterest activity for the past year and gleaning the perfect recipe for a popular photo. Wired reported the results today.
It turns out the alpha and omega of Pinterest images is, drum roll please: a salad from Paula Deen's website. "Aunt Peggy's Cucumber, Tomato and Onion Salad," to be exact.
The photo was repinned a whopping 307,000 times, liked 8,000 times and commented on 300 times, according to Wired. So what's it got that others don't?
Well, according to Curalate, these are the qualities that make this photo such a pièce de résistance: a lack of human faces; minimal background; multiple dominant colors; red hues instead of blue; moderate light and color; and portrait-style alignment.
Wonder how these findings will affect whoever the hell makes those infographics explaining how to perfectly clean a stove top.