Michel Foucault stands in an open doorway at the end of a dark hallway in a 1981 photograph by his onetime lover, the late French writer and photographer Hervé Guibert, who died of AIDS in 1991. Mr. Guibert is the centerpiece of this elegiac, intimate exhibition, whose title is inspired by his memoir To the Friend Who Did Not Save My Life, and which includes the work of seven photographers. Like that photo, the somber pieces here—most of them done in black and white—probe the ways in which photography unites and distances people, from one another, from themselves, from memories, from art.
Moyra Davey, who co-curated the show with Jason Simon, snaps empty liquor bottles in her apartment, markers of both sociality and forgetting. Mr. Simon adopts modes that recall Atget, Sugimoto, Eggleston and others in small portraits and landscapes that he slips into fake promotional frames, producing a pointed tension between style and content. Israeli artist Rona Yefman's photographs are partial portraits of her brother (seen from his side or just from the waist down). She uses the medium to multiply and fracture, rather than resolve, mysteries of identity. The 36 prints in a folio by the German Heinz Peter Knes show quotidian scenes, down streets and out windows—a man locating himself in the world.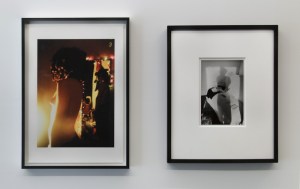 Cameras often seem to reach out, almost to touch, as in a work by the late Francesca Woodman that show her nude, bending toward the lens in a dark room in Rome, or in six photogravures by the Vietnamese-Danish artist Danh Vo, also taken in Rome, that are close ups of classical statues' hands.
In his own photos, Mr. Guibert trains his camera on photo negatives, an open book and letters. In the last, he's the one standing in front of a doorway or window, his presence registered only by a shadow. Shot as records of his daily life, his images have become memorials, to his life, to the people around him and to the continuing ravages of a disease. (Through June 21, 2013)