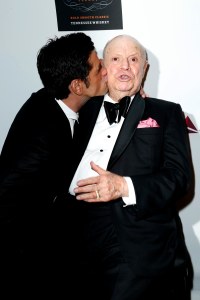 On Monday night, no less a legend than Don Rickles was honored with the Friars Club's Lifetime Achievement Award for Comedy at a star-studded awards gala.
Lewis Black, Louis C.K., Gilbert Gottfried, Joan Rivers and other club members were joined at the Waldorf Astoria by Bob Costas, Tony Danza, Kathy Griffin, Tony Bennett, John Mayer and Katy Perry (who are apparently "on again"), Bob Newhart, Regis Philbin, Bob Saget, Robert De Niro and John Stamos, who had a sudden allergy attack on the red carpet, sneezing, sniffling, wiping his eyes, powering through interviews and offering to simply bump elbows "so I don't get snot on you."
Apparently it's a well-known fact that Mr. Stamos is the apple of Mr. Rickles's eye, and several celebs cited him as their reason for attending, including Mr. Saget, a former Full House cast mate of Mr. Stamos's (and also his BFF).
Mr. Saget told the Transom he loves The Observer because we "wrote an article on his foul mouth and exposed him as a horrendous creature." As far as his love for Mr. Rickles goes, he said he grew up watching the insult comic and then directed him in the Norm Macdonald vehicle Dirty Work. Mr. Saget described the 87-year-old as an icon who likes clean comedy.
"When he saw my new Showtime special, he slapped me in the face and said, 'I loved it, but you left out two fucks.' He doesn't like cursing," said Mr. Saget.
Mr. Rickles has always been big on the talk-show circuit, and David Letterman, Jay Leno, Jimmy Kimmel and Craig Ferguson all sent in pre-taped clips. Mr. Kimmel called him "the funniest man alive who resembles a pile of silly putty."
Mr. Letterman said he couldn't be there because "tonight is the night I eat broken glass." Howard Stern even got in on the video action, offering up a montage of random people on the street who had no idea who Mr. Rickles was. "But you're relevant to me, John Stamos and five other people," Mr. Stern said.
Earlier in the evening, Lewis Black told the Transom about Mr. Rickles's influence on his own angry-comic shtick. "That mouth of his is spectacular. It allowed me to realize I could tell an entire audience to go fuck itself," he said, adding that he was most excited to meet Mr. Newhart.
When another reporter asked why, he scoffed, "Why? What are you, a fucking moron? Why."
Known affectionately as "Mr. Warmth," Mr. Rickles got his start in nightclubs in the 1950s and became best known for films like X: The Man with the X-Ray Eyes, The Rat Race and Casino. Younger generations may know him as the voice of Mr. Potato Head in Toy Story.
There was a one-item live auction run by Stewie Stone, who referred to Louis C.K., the first bidder on the Friar's Club piano, as "a young kid with a big mouth." A bidding war broke out between Mr. C.K., John Mayer and Dave Matthews Band violinist Boyd Tinsley.
When Mr. C.K. was outbid by Mr. Mayer at $50,000, he stood up and could be seen on the monitor mouthing the word "motherfucker." Mr. Stone said, "Mayer, you're a great guy, but stay the fuck away from my daughter."
Ultimately, Mr. Tinsley won the piano with a $70,000 bid. Later, Mr. C.K. remarked, "You know the guy with the dreads isn't going to pay you for that piano. I saw that guy selling a joint in Washington Square Park this morning. Good luck with that."
And then came the heavy hitters.
Mr. Newhart said, "I'm about as nervous as Lou Gehrig's doctor when he had to tell him he had Lou Gehrig's disease."
Mr. Philbin recounted how Mr. Rickles had once told him, "I like your show. I use it as a nightlight when I want to fool around with the wife."
The old-timers didn't go unnoticed by Joan Rivers, who said that this collection of comedians looked "like Kevorkian's bucket list."
Dr. Kevorkian will have to move fast in Mr. Rickles's case, according to Mr. De Niro. "Everyone knows they give this award to the comedian most likely to die in the next few months," he said.
And then, finally, even though Mr. C.K. had insisted that "Don left about an hour ago and they just keep cutting to that one screenshot of him smiling," Mr. Rickles took the stage to accept his award. "The Friars have a wonderful picture of me on their Wall of Honor," he said, "and I'm very flattered, even though some of the members use it for target practice."