On Sunday evening, a sea of men wearing black hats and cloaks flooded Foley Square in Lower Manhattan. They bore signs with Hebrew and English lettering, and conversed almost exclusively in Yiddish. Women, what few were in attendance, were given a wide berth. Three hundred rabbis and elders gathered onstage and led the crowd in a series of prayers before the formal protest against Israel's policies began.
Two weeks ago, the Israeli government approved a proposal to phase out military service exemptions for ultra-Orthodox Jewish men, who have traditionally been excused on religious grounds. Sunday's demonstration drew between 20,000 and 30,000 ultra-Orthodox Jewish protesters opposed to the new law, according to the event's organizers.
"Basically, they want to integrate us into their society," Rabbi Yaakov Shapiro, who leads a congregation in Far Rockaway, said to The Observer. "They want to turn a nation of scholars into a nation of warriors. … We will not go like sheep to the slaughter from our yeshivas to their indoctrination camps."
The military service exemption dates back to 1949. Rabbi Isaac Herzog, the State of Israel's first chief rabbi, persuaded Prime Minister David Ben-Gurion to exempt 400 ultra-Orthodox men from the draft so that they could study full time in yeshivas. Today, over 55,000 ultra-Orthodox Jewish men fall under the exemption, The New York Times reported in 2012.
Proponents of the new law have suggested that phasing out the exemption would encourage ultra-Orthodox Jews to "share the burden" of Israeli citizenship and eliminate a fundamental social inequality that has bred a strong resentment of the ultra-Orthodox within Israel. The issue has been a focus of recurring social justice protests.
According to the World Jewish Congress, Sunday's demonstrators hailed mainly from two factions of Satmar Hasidism, an ultra-Orthodox and traditionally anti-Zionist sect of Judaism. The formal speeches attempted to steer away from anti-Zionist sentiment, and protesters were asked to put away signs bearing messages against the State of Israel. The Rabbinical Council of America, which represents mainstream Orthodoxy, had condemned the protest in advance, saying that it was anti-Israel.
Toby Baum, who attended with her family and remained to one side of the square with the rest of the women, translated a portion of the speeches from Yiddish. "They're saying that the wars at our borders in Syria and Egypt are nothing compared to the war within the country, the war of modern versus Orthodox," she said.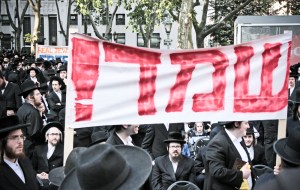 "Serving in the military is taking your head away from the Torah," she said. "For us, that is a destruction of our culture. All we're asking the government is to let us live our life the way we have lived it."
Sunday's protest was "a show of unity with our brothers in Israel who are being victimized by these decrees," Rabbi Shapiro said. "We want them to know that we're behind them. And it's to show God that this really bothers us. We want to enlist his assistance as well."
Rabbi Shapiro said that he believes that losing young men to the army would cause irreparable harm to their education, which is the main tenet of the community.
"They don't need us in their army. They have a surplus of soldiers. They're trying to force us to become like them. Our answer is, we're not going," Rabbi Shapiro said.
Chaya Gottesman, a pediatric occupational therapist from the Upper West Side, happened by the protest after visiting the Egg Rolls and Egg Creams festival on Eldridge Street, just a few blocks away. There, Jewish and Chinese cultures merged, with craft projects like making kippot adorned with Chinese lettering as klezmer music played. Ms. Gottesman, who was brought up in an ultra-Orthodox family but practices a less strict form of Judaism, said she was "saddened" by the demonstration, which she viewed as staunchly anti-Israeli.
"If they don't like Israel, don't live there," she said. "Stop taking advantage of Israel's social services. Don't benefit from it. "