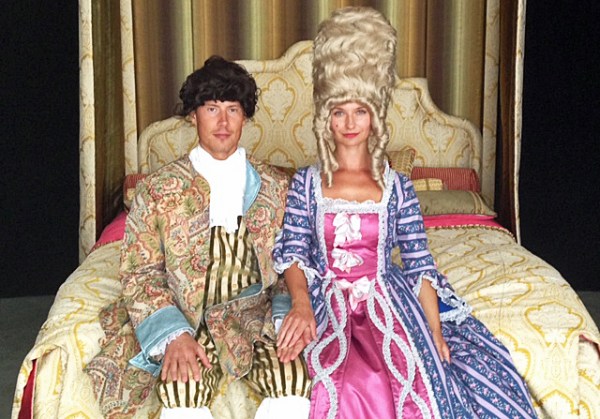 "Everything important in your life happens in the bedroom," Savoir Beds' managing director, Alistair Hughes, told The Observer on Wednesday. "You were born in it, you were possibly conceived in it, and you certainly sleep in it. What could be more important?"
Mr. Hughes, a slender man with razor-sharp sideburns, was in New York to extol the virtues of the British luxury bed-maker's limited edition Royal Bed, crafted in honor of the 60th Anniversary of Queen Elizabeth's Coronation. The price tag: $175,000.
The Royal Bed is currently on a world tour, having arrived at SoHo's Swiss Institute after brief jaunts in Europe and Asia. It was originally introduced as part of the "Secrets of the Royal Bedchamber" exhibition in the U.K.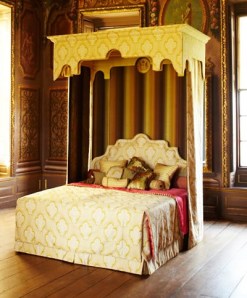 The secrets of our bedchamber are fairly unremarkable, but the bed boasts a pretty impressive list of specifications: each one is hand-crafted and takes more than 600 hours to produce; the mattress toppers are stuffed with Mongolian cashmere and curled horse-tail hair (plaited into rope for three months to obtain its wiry, springy and vaguely, um, suggestive texture); and the bedding is woven with roughly 1,600 miles' worth of custom-dyed silk.
There's also a customizable crest, hand-stitched by The Royal School of Needlework, who embroidered Kate Middleton's wedding dress. Mr. Hughes assured us that the crest could be embroidered with just about anything–even the countenance of one's beloved bygone companion, Whiskers the cat, for example. And every bed is completely bespoke, tailored to the client's precise specifications, from the style of the bedding to the firmness of the mattress.

"It harks back to this era in the 1600s when the bed was the center of everything," the silver-haired Mr. Hughes said, describing the sumptuous bed linens and classical design. As we chatted, two striking models decked out in full Regency garb gamely offered us tea, coffee, Perrier and scones.
"We're trying to get this effect like you're on a cloud," Mr. Hughes said. "You're totally relaxed, your body is able to really recover."
Mr. Hughes also seemed convinced that it will assist with, ahem, other bedroom activities. "If you're knackered all the time, your libido goes down, right? It's incredibly important that you sleep well. A happy couple in bed is a better couple in bed."
Unfortunately, we did not have a companion with whom to test Mr. Hughes' theory. He didn't seem up for it either. Alone, we sunk our head into the sumptuous pillows, pulled the covers around us, closed our eyes and thought of England. Turns out, sleeping alone feels exactly the same at $175,000.